Farmville 2 Reception Perception: Light Of The Party
Craft some special surprises!.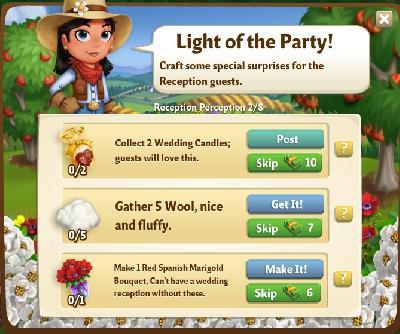 Task 1: Collect 2 Wedding Candles; guests will love this.
Solution: Ask friends
Task 2: Gather 5 Wool, nice and fluffy
Solution: Feed rabbits or sheeps to gather wool, get 5 wool.
Task 3: Make 1 Red Spanish Marigold Bouquet, Can't have a wedding reception without these.
Solution: Go to workshop and make 1 Red Spanish Marigold Bouquet. You'll need Red Spanish Marigolds and wool tread
Reward After Completing Reception Perception: Light Of The Party
1 favor, 35 Xp and 350 coins