Farmville 2 Reception Perception: Setting the Mood
Make sure the cows don't disrupt the reception..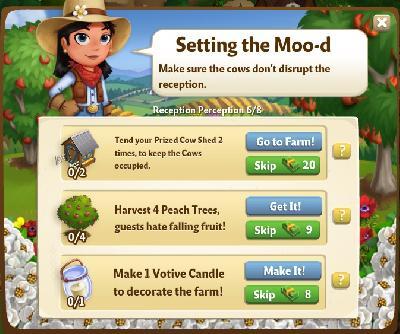 Task 1: Tend your Prized Cow Shed 2 times, to keep the Cows occupied.
Solution: Feed your Cow shed 2 times.
Task 2: Harvest 4 Peach Trees, guest hate falling fruit!
Solution: Water and harvest 4 peach trees. ready in 2 hours.
Task 3: Make 1 Votive Candle to decorate the farm!
Solution: Go to workshop and make 1 Votive Candle. You'll need Glass and metal sheets.
Reward After Completing Reception Perception: Setting the Mood
1 favor, 70 Xp and 650 coins