Farmville 2 Reception Perception: Wedding Water
We need to get ready for all these thirsty quests..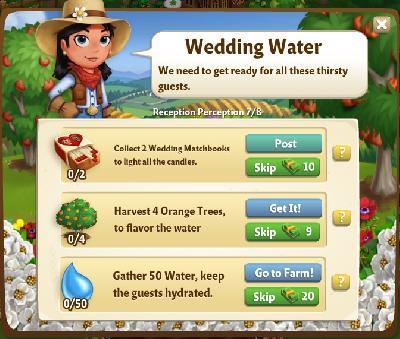 Task 1: Collect 2 Wedding Matchbooks to light all the candles.
Solution: Ask friends.
Task 2: Harvest 4 Orange Trees, to flavor the water.
Solution: Water, and harvest 4 orange trees. ready in 8 hours.
Task 3: Gather 50 Water, keep the guests hydrated.
Solution: Harvest wells or watertower to get water. collect 50 water.
Reward After Completing Reception Perception: Wedding Water
2 Favors, 90 Xp and 900 coins