Farmville 2 Rocks For Walter: Rocking The Books
Harden up your knowledge of rocks!.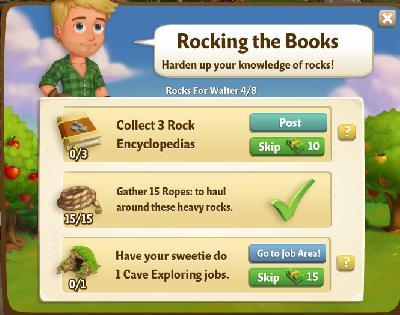 Task 1: Collect 3 Rock Encyclopedias
Solution: Ask friends
Task 2: Gather 15 Ropes: to haul around these heavy rocks.
Solution: Feed donkeys to gather 15 ropes.
Task 3: Have your sweetie do 1 Cave Exploring jobs.
Solution: Let your sweet heart do 1 Cave exploring job
Reward After Completing Rocks For Walter: Rocking The Books
1 favor, 45 xp and 450 coins