Farmville 2 Sharing is Scaring: Going Batty
Need the bats!.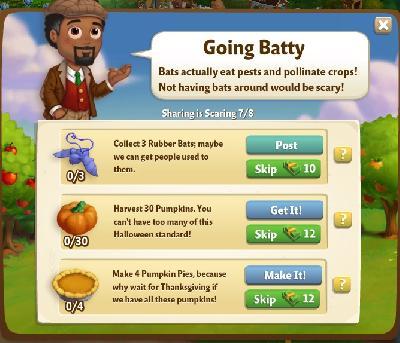 Task 1: Collect 3 Rubber Bats; maybe we can get people used to them.
Solution: Ask friends.
Task 2: Harvest 30 Pumpkins. You can't have too many of this Halloween standard!
Solution: Plant, water and harvest 30 Pumkins. ready in 8 hours.
Task 3: Make 4 Pumpkin Pie, Because why wait for Thanksgiving if we have all these pumpkins!
Solution: go to kitchen and make 4 Pumpkin pies. You'll need pumkin filling and pie crust.
Reward After Completing Sharing is Scaring: Going Batty
90 XP, 900 Coins and 1 ticket