Farmville 2 Sheep Racing: Shear Entertainment
Marie's going to prove she's got the grit to be mayor of Farmville by shearing sheep..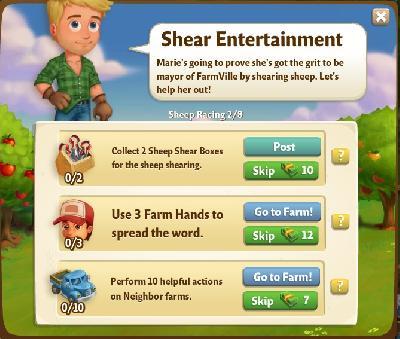 Task 1: Collect 2 Sheep Shear Boxes for the sheep shearing.
Solution: Ask friends.
Task 2: Use 3 Farm Hands to spread the word.
Solution: Use your 3 neighbor farmhands.
Task 3: Perform 10 helpful actions on Neighbor farms.
Solution: Go to neighbors and help 10 times.
Reward After Completing Sheep Racing: Shear Entertainment
1 Favor, 35 Xp, 350 coins and 1 superfeed