Farmville 2 So Old It's New: Old News Is Good News
Let read the news!.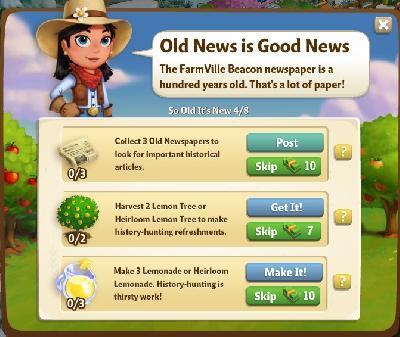 Task 1: Collect 3 Old Newspapers to look for importent historical articles.
Solution: Ask friends.
Task 2: Harvest 2 Lemon Tree or Heirloom Lemon Tree to make history-hunting refreshments.
Solution: Water and harvest 2 Lemon trees. Ready in 12 hours.
Task 3: Make 3 Lemonade. History-hunting is thirsty work!
Solution: Go to kitchen and make 3 Lemonade. You'll need Lemon water and lemonas.
Reward After Completing So Old It's New: Old News Is Good News
45 Xp and 450 Coins