Farmville 2 So Old It's New: Old School
Let's Help the Historical Society!.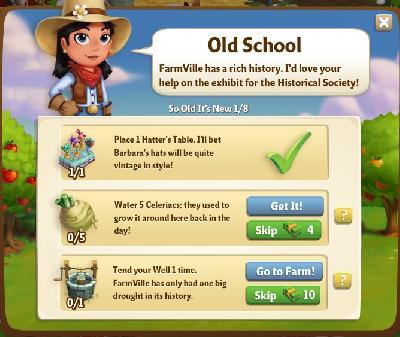 Task 1: Place 1 Hatter's Table. I'll bet Barbara's hats will be quite vintage in style!
Solution: Place the Table at your farm.
Task 2: Water 5 Celeriacs; they used to grow it around here back in the day!
Solution: Plant and water 5 Celeriacs.
Task 3: Tend your Well 1 time. FarmVille has only had one big drought in this history.
Solution: Click your well when ready.
Reward After Completing So Old It's New: Old School
30 Xp and 300 Coins