Farmville 2 Swanning Around: Picture Perfect
Swan-inspired decor is a good idea!.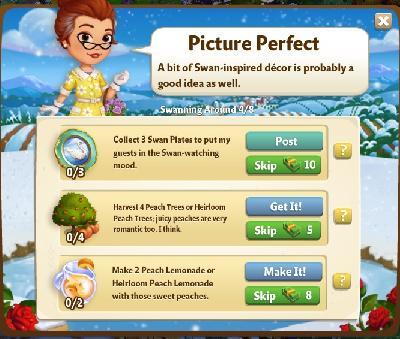 Task 1: Collect 5 Swan Plates to put my quest in Swan-watching mood.
Solution: Ask friends.
Task 2: Harvest 4 Peach Trees or Heirloom Peach Trees; juicy peaches are very romantic too, I think.
Solution: water and harvest 4 Peach tree. Ready in 2 hours
Task 3: Make 2 Peach lemonades or Heirloom Peach Lemonades.
Solution: Go to kitchen and make 2 peach lemonades You'll need peaches and Lemonade.
Reward After Completing Swanning Around: Picture Perfect
45 XP, 450 Coins and 1 Swan Wreath.