Farmville 2 Swanning Around: Spread The Love
People should know about Swans!.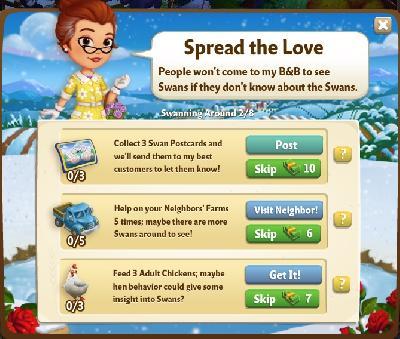 Task 1: Collect 5 Swan Postcards and we'll send them to my.best customers to let them know!
Solution: Ask friends.
Task 2: Help on your Neighbors'Farms 5 times; maybe there are more Swans aound to see!
Solution: go to your neighbours and help 5 times.
Task 3: Feed 3 Adult Chickens; maybe hen behavior could give some insight into Swans?
Solution: Feed chickens 5 times.
Reward After Completing Swanning Around: Spread The Love
35 XP, 350 Coins and 1 Swan Wreath