Farmville 2 Thats How The Cookie Crumbles: Sticy Situation
Politics is tricky!.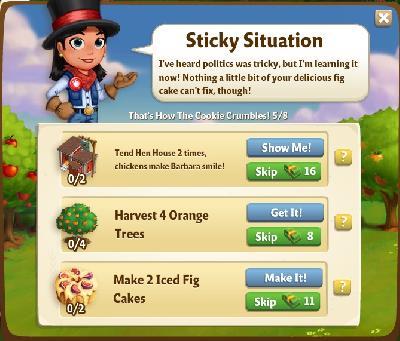 Task 1: Tend Hen House 2 times, chickens make Barbara smile!
Solution: Collect from Hen house 2 times when its ready.
Task 2: Harvest 4 Orange Trees.
Solution: Water and harvest 4 orange trees, ready in 8 hours
Task 3: Make 2 Iced Fig Cakes.
Solution: Go to kitchen and make 2 Iced Fig Cakes. You'll need fig cakes and sugar (ask friends)
Reward After Completing Thats How The Cookie Crumbles: Sticy Situation
1 favor, 50 xp, 550 coins and 1 jam point