Farmville 2 The Case of the Misplaced: The Smell of Success
The smeel of a boar.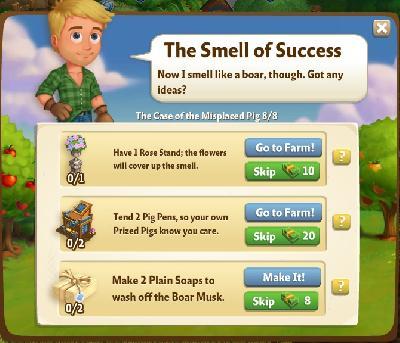 Task 1: Have 1 Rose Stand; the flowers will cover up the smell.
Solution: Collect white truffles and get it from Romantic Dinner Table.
Task 2: Tend 2 Pig Pens, so your own Prized Pigs know you care.
Solution: Feed Pig Pens 2 times.
Task 3: Make 2 Plain Soaps to wash off the Boar Musk.
Solution: Go Workshop and make 2 Soaps. you'll need lye and Olive oil.
Reward After Completing The Case of the Misplaced: The Smell of Success
120 Xp and 1100 Coins