Farmville 2 The Fruit Appraiser: Sizing It Up
Walter needs better equipment!.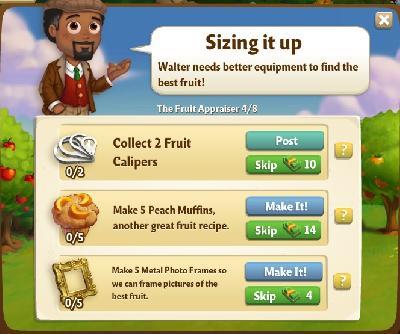 Task 1: Collect 2 Fruit Calipers
Solution: Ask friends.
Task 2: Make 5 Peach Muffins, another great fruit recipe.
Solution: Go to kitchen and make 5 peach muffins. You'll need Peach and batter
Task 3: Make 5 Metal Photo Frames so we can frame pictures of the best fruit.
Solution: Go to workshop and make 5 Metal photo frames. You'll need
Reward After Completing The Fruit Appraiser: Sizing It Up
175 xp, 975 coins and 1 baby bottle