Farmville 2 The Great Appaloosa Logjam: Get Your Feet Wet
Making Treats from Watercrops.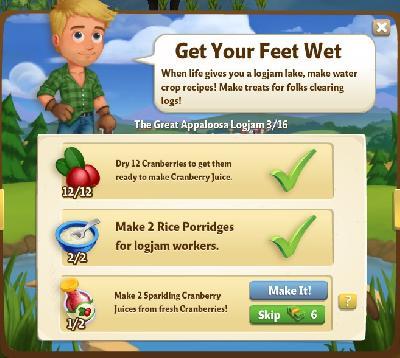 Task 1: Dry 12 Cranberries to get them ready to make Cranberry Juice.
Solution: after harvest 12 cranberry (watercrop) dry them in your Crop dryer.
Task 2: Make 2 Rice Porridges for logjam workers.
Solution: Go to Kitchen and make Rice Porridges 2 times. you'll need Rice(watercrop) and broth.
Task 3: Make 2 Sparkling Cranberry Juices from fresh Cranberries!
Solution: Go to Kicthen and make 2 Cranberry Juice. You'll need Cranberries and juice jar (ask friends)
Reward After Completing The Great Appaloosa Logjam: Get Your Feet Wet
40 XP and 1000 Coins