Farmville 2 The Great Appaloosa Logjam: Going With the Grain
Making food with carbs..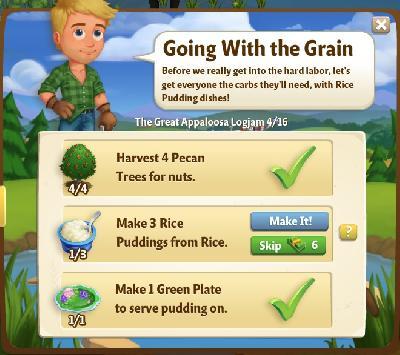 Task 1: Harvest 4 Pecan Trees for nuts.
Solution: Water and harvest 4 Pecan Trees. ready in 12 hours.
Task 2: Make 3 Rice Puddings from Rice
Solution: Go to Kitchen and make 3 Rice Puddings. you'll need Rice (watercrop) and half and half
Task 3: Make 1 Green Plate to serve pudding on.
Solution: Go to Crafting Kiln and make 1 Green plate. You'll need green Glaze and Porcelain.
Reward After Completing The Great Appaloosa Logjam: Going With the Grain
40 XP and 1000 Coins