Farmville 2 The Great Appaloosa Logjam: Just Ducky
Love Bird watching!.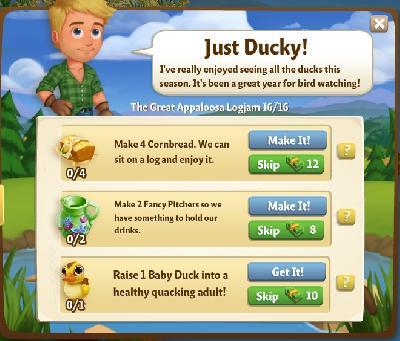 Task 1: Make 4 Cornbread. we can sit on a log and enjoy it.
Solution: Go to kitchen and make4 Cornbread. You'll need corn meal and buttermilk.
Task 2: Make 2 Fancy Pitchers so we have something to hold our drinks.
Solution: Go to Crafting Kiln and make 2 Pitchers. You'll need Terracotta Pitchers and eggshall glaze.
Task 3: Raise 1 Baby Duck into a healthy quacking adult!
Solution: Buy a duck and raise it with babybottles.
Reward After Completing The Great Appaloosa Logjam: Just Ducky
40 XP and 1000 Coins