Farmville 2 The Great Appaloosa Logjam: Nature Study
Studying the Habitat..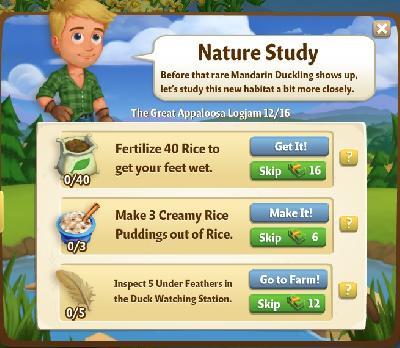 Task 1: Fertilize 40 Rice to get your feet wet-
Solution: Water and Fertilize Rice(water crop) 40 times.
Task 2: Make 3 Creamy Rice Puddings out of Rice.
Solution: Go to kitchen and make Creamy Rice Puddings 3 times. You'll need Rice(water crop) and Condensed milk(ask Freinds).
Task 3: Inspect 5 Under Feathers in the Duck Watching Station.
Solution: Go to your Duck Watching Station and inspect until you get 5 Under Feathers.
Reward After Completing The Great Appaloosa Logjam: Nature Study
40 XP and 1000 Coins