Farmville 2 The Great Appaloosa Logjam: Tourist Trap
Raising Funds.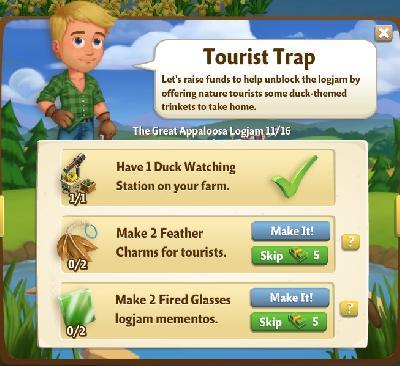 Task 1: Have 1 Duck Watching Station on your farm.
Solution: Finish building your Duck Watching Station.
Task 2: Make 2 Feather Charms for tourists.
Solution: Go to workshop and make 2 Feather Charms. you'll need wool tread and feathers.
Task 3: Make 2 Fired Glasses logjam mementos.
Solution: Go to your Crafting Kiln and make 2 Fried Glass. You'll need procelain and glass(ask friends)
Reward After Completing The Great Appaloosa Logjam: Tourist Trap
40 XP and 1000 Coins