Farmville 2 The Great Appaloosa Logjam: Unwelcome Guests
Fighting the moquitoes..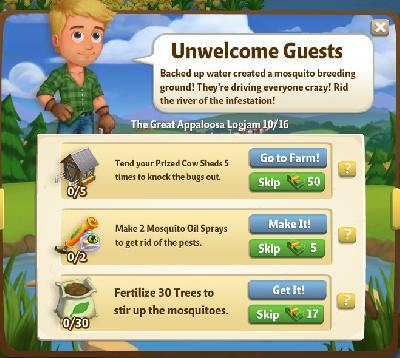 Task 1: Tend your Prized Cow Sheds 5 times to knock the bugs out.
Solution: Feed your Cow Shed 5 times when ready.
Task 2: Make 2 Mosquito Oil Sprays to get rid of the pests.
Solution: Go to workshop and make Mosquito Oil Spray. You'll need Methal sheet and Olive oil.
Task 3: Fertilize 30 Trees to stir up the mosquitoes
Solution: Water and then Fetilize 30 trees.
Reward After Completing The Great Appaloosa Logjam: Unwelcome Guests
40 XP and 1000 Coins