Farmville 2 The Handyman Can: A Good First Week
Marie's brewing up some cider!.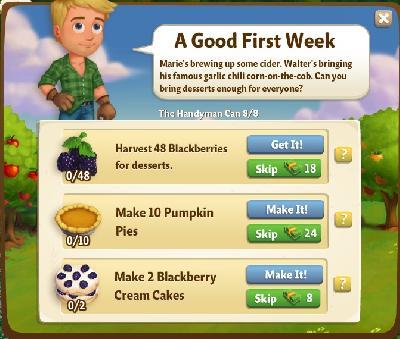 Task 1: Harvest 48 Blackberries for desserts.
Solution: Plant, water and harvest 48 Blackberries. ready in 2 minutes.
Task 2: Make 10 Pumpkin Pies.
Solution: Go to kitchen and make 10 pumpkin pies. You'll need pumlpkin filling and pie crust
Task 3: Make 2 Blackberry Cream Cakes.
Solution: Go to kitchen and make 2 Blackberry Cream cakes. You'll need blackberry cream and bread
Reward After Completing The Handyman Can: A Good First Week
210 Xp, 1675 coins, 2 baby bottles and 5 power