Farmville 2 The Horse Parade: A Chord Of Wood
Make some Guitars!.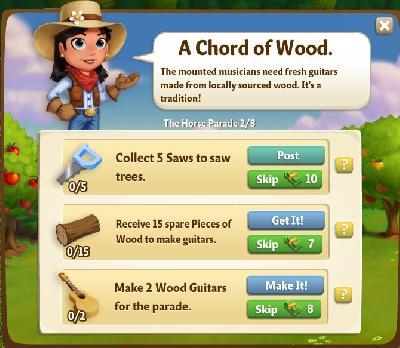 Task 1: collect 5 Saws to saw trees.
Solution: Ask Friends.
Task 2: Receive 15 spare Pieces of Wood to make guitars.
Solution: Harvest trees giving wood and collect 15 wood.
Task 3: Make 2 Wood Guitars for the parade.
Solution: Go to workshop and make 2 wood guitars. You'll need Guitar body's and horsshoes.
Reward After Completing The Horse Parade: A Chord Of Wood
480 Xp, 625 Coins and 1 baby bottle