Farmville 2 The Horse Parade: Eau De Fertilizer
Preppare the bathrooms..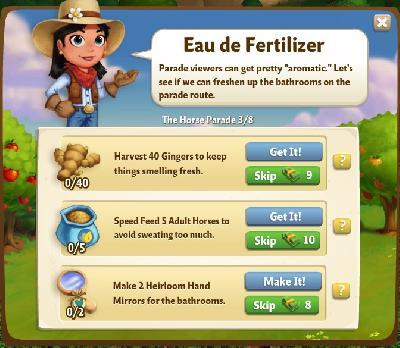 Task 1: Harvest 40 Gingers to keep things smelling fresh.
Solution: Ålant, water and harvest 40 Gingers. Ready in 2 hours.
Task 2: Speed Feed 5 Adult Horses to avoid sweating too much.
Solution: Use Speed Feed on 5 horses.
Task 3: Make 2 Heirloom Hand Mirrors for the bathroom.
Solution: Go to workshop and make 2 Heirloom Hand Mirrors. You'll need Mirrors and Heirloom Wood.
Reward After Completing The Horse Parade: Eau De Fertilizer
510 Xp, 800 Coins and 1 baby bottle