Farmville 2 The Horse Parade: Spur Of The Moment
Let's show the finest Things!.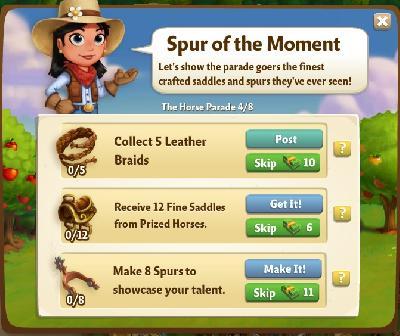 Task 1: Collect 5 Leather Braids.
Solution: Ask Friends
Task 2: Recieve 12 Fine Saddles from Prized Horses.
Solution: When feed Prized orses you get Saddles. Get 12 Fine Saddles.
Task 3: Make 8 Spurs to showcase your talent.
Solution: Go to workshop and make 8 Spurs. You'll need Horseshoes and leather.
Reward After Completing The Horse Parade: Spur Of The Moment
540 Xp, 975 Coins and 1 baby bottle