Farmville 2 The Need for Feed: Night Crawlers
We need to muffle our footsteps!.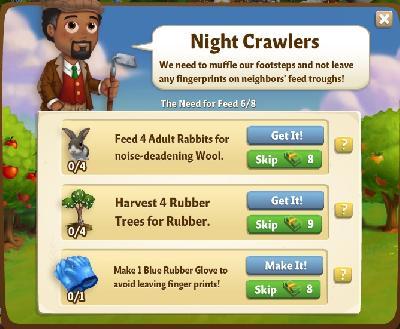 Task 1: Feed 4 Adult Rabbits for noise-deadening Wool.
Solution: Feed 4 rabbits.
Task 2: Harvest 4 Rubber Trees for Rubber.
Solution: Water and harvest 4 Rubber Trees. ready in 4 hours.
Task 3: Make 1 Blue Rubber Glove to avoid leaving finger prints!
Solution: Go to work shop and make 1 Blue Rubber Glove. You'll need Rubber and blueberry dye.
Reward After Completing The Need for Feed: Night Crawlers
1 Favor, 70 Xp and 650 Coins