Farmville 2 The perfect Wedding: Reception Receptionist
Organize a wonderful wedding!.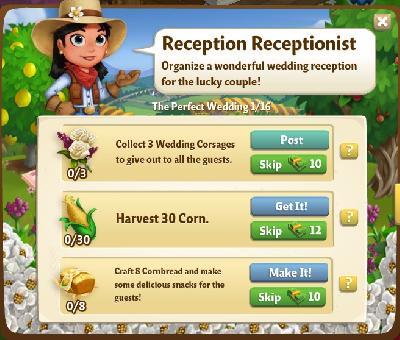 Task 1: Collect 3 Wedding Corsages to give out to all the guests-
Solution: Ask friends.
Task 2: HArvest 30 Corn.
Solution: Plant, water and harvest 30 Corn. ready in 2 minutes.
Task 3: Craft 8 Cornbread and make some delicious snacks for the guests!
Solution: Go to kitchen and make 8 Cornbread. You'll need Corn meal and buttermilk.
Reward After Completing The perfect Wedding: Reception Receptionist
5 Power