Farmville 2 The Perfect Wedding: Unleash The Ushers
Get your ushers ready!.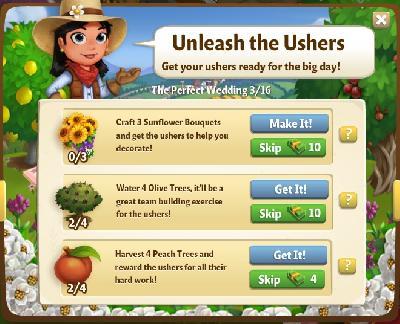 Task 1: Craft 3 Sunflower Bouquets and get the ushers to help you decorate!
Solution: Go to workshop and make 3 Sunflower Bouquets. You'll need Sunflowers and Wedding Ribbon.
Task 2: Water 4 Olive Trees, it'll be a great team building exercise for the ushers!
Solution: Water 4 Olive trees.
Task 3: Harvest 4 Peach Trees and reward the ushers for all their hard work!
Solution: Water and harvest 4 peach trees. ready in 2 hours.
Reward After Completing The Perfect Wedding: Unleash The Ushers
5 Fertilizer