Farmville 2 The Wet Stuff: River Kids
Take the kids for a swim!.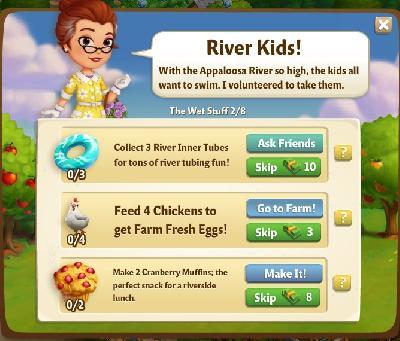 Task 1: Collect 3 River Inner Tubes for tons of river tubing fun!
Solution: Ask friends.
Task 2: Feed 4 Chikens to get a Farm Fresh Eggs!
Solution: Feed a Chicken 4 times.
Task 3: Make 2 Cranberry Muffins; the perfect snack for riverside lunch.
Solution: Go to kitchen and make 2 Cranberry Muffins. you need Cranberry and batter.
Reward After Completing The Wet Stuff: River Kids
35 Xp and 350 Coins