Farmville 2 The Wet Stuff: That's Swell
Look at the River!.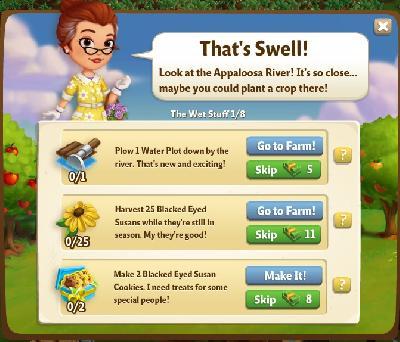 Task 1: Plow 1 Water Plot down by the river. Thats new and exciting!
Solution: Click at the river and then plov.
Task 2: Harvest 25 Blacked Eyed Susans while there still in season. My they're good!
Solution: Click an empty plot and then Susans, harvest when ready. takes 2 hours to grow
Task 3: Make 2 Blacked Eyed Susan Cookies. I need treats for some special people!
Solution: go to kitchen and make 2 Cookies. you need Flour and Black Eyed Susans.
Reward After Completing The Wet Stuff: That's Swell
30 Xp and 300 Coins