Farmville 2 Tree Farming: Terrific Trees And Tarts
Gus need your help!.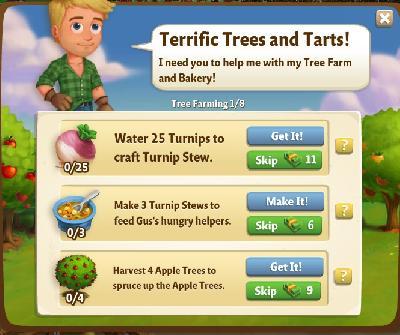 Task 1: Water 25 Turnips to craft Turnip Stew.
Solution: Plant and water 25 Turnips.
Task 2: Make 3 Turnip Stews to feed Gus's hungry helpers.
Solution: Go to kitchen and make 3 Turnip Stews. You'll need Turnips and tomato paste
Task 3: Harvest 4 Apple Trees to spruce up the Apple Trees.
Solution: Water and harvest 4 Apple trees. ready in 4 hours.
Reward After Completing Tree Farming: Terrific Trees And Tarts
65 Xp, 40 coins and 1 baby bottle