Farmville 2 Wedding Advice: Good Wedding Goods
We need items to make this wedding extra special..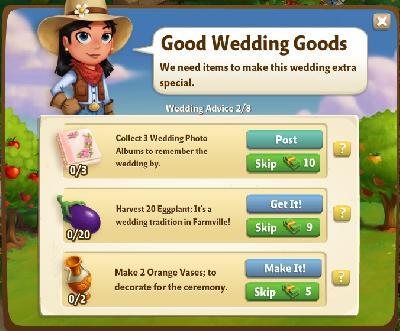 Task 1: Collect 3 Wedding Photo Albums to remember the wedding by.
Solution: Ask friends.
Task 2: Harvest 20 Eggplant; It's a wedding tradition in Farmville!
Solution: Plant , water and harvest 20 Eggplant. ready in 4 hours.
Task 3: Make 2 Orange Vases; to decorate for the ceremony.
Solution: Go to workshop and make 2 Orange Vases. You'll need Orange clay pots and yellow glaze.
Reward After Completing Wedding Advice: Good Wedding Goods
1 Favor, 35 Xp and 350 coins