Farmville 2 Wedding Advice: Host Boast
The farm is almost perfect for the wedding..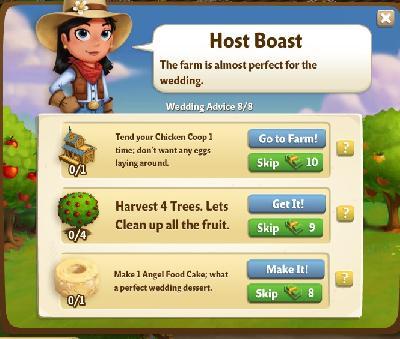 Task 1: Tend your Chicken Coop 1 time; don't want any eggs laying around.
Solution: Feed your Chicken Coop 1 times.
Task 2: Harvest 4 Trees. Lets Clean up all the fruit.
Solution: Water and harvest 4 trees.
Task 3: Make 1 Angel Food Cake; what a perfect wedding dessert.
Solution: Go to kitchen and make 1 Angel Food Cake. You'll need Fluffy batte and sugar(ask friends)
Reward After Completing Wedding Advice: Host Boast
2 Favors, 120 Xp and 1100 coins