Farmville 2 Wedding Favor Frenzy: All Tuckered Out
Go get a healty snack!.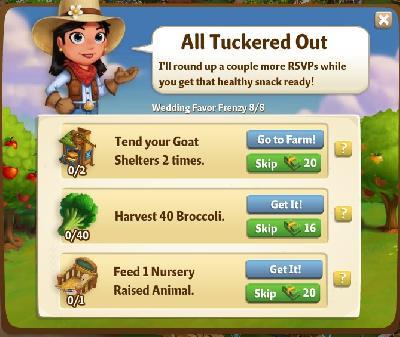 Task 1: Tend your Goat Shelters 2 times.
Solution: Feed your Goat shelter 2 times.
Task 2: Harvest 40 Broccoli.
Solution: Plant, water and harvest 40 Broccoli. Ready in 8 hours.
Task 3: Feed 1 Nursery Raised Animal.
Solution: Raise 1 animal with nursery and feed it 1 time.
Reward After Completing Wedding Favor Frenzy: All Tuckered Out
230 Xp, 335 coins, 2 baby bottles and 2 RSVPs