Farmville 2 Winter Guests: Nice And Toasty
Recommend a drink..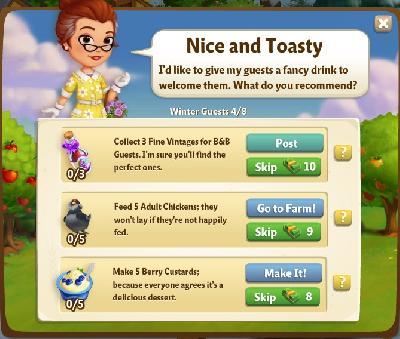 Task 1: Collect 5 Fine Vintage for B&B Guests. I'm sure you'll find the perfect ones.
Solution: Ask friends.
Task 2: Feed 5 Adult Chicken; they won't lay if they're not happily fed.
Solution: Feed 5 chicken
Task 3: Make 5 Berry Custard; because everyone agrees it's a delicious dessert.
Solution: Go to Kitchen and make 5 Berry Custard. You'll need Blueberries and custard.
Reward After Completing Winter Guests: Nice And Toasty
45 XP, 450 Coins, and 2 Holiday Hooks.