Farmville 2 Winter Sports: On The Ice
Time for Winter Sports!.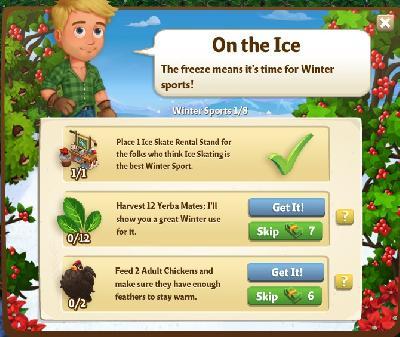 Task 1: Place 1 Ice Skate Rental Stand for the folks who think Ice Skating is the best Winter Sport.
Solution: Place the Ice Skate Stand at your farm.
Task 2: Harvest 12 Yerba Mates; I'll show you a great Winter use for it.
Solution: Plant, water and harvest 12 Yerba Mates. Ready in 8 hours.
Task 3: Feed 2 Adult Chickens and make sure they have enough feathers to stay warm.
Solution: Feed Chicken 2 times.
Reward After Completing Winter Sports: On The Ice
30 XP and 300 Coins.