Farmville 2 Work It Out: Getting Busy
Busy at the farm!.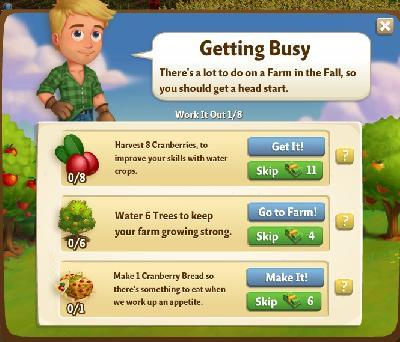 Task 1: Harvest 8 Cranberries, to improve your sills withwater crops.
Solution: Click waterplot, cranberries and harvest 8 of them. grow in 10 minutes.
Task 2: Water 6 Trees to keep your farm growing strong.
Solution: Water tree 6 times,
Task 3: Make 1 Cranberry Bread so there's something to eat when we work up an appetite.
Solution: Go to kitchen and make 1 cranberry bread. you'll need cranberries and bread.
Reward After Completing Work It Out: Getting Busy
30 XP and 300 Coins