Dated: 7:54am on Monday 10th June 2019
Strategy Guide To Materials, XP, Animals, Crops, Neighbors And More..
Don't waste coins and Red Stones on decorations, like the well or tractor, they are just for looks.
Facebook has a number of ways to charm you to blow through your coins & red stone, by offering a bunch of unnecessary "decorations". Then you will have to purchase more coins or red stone later on…or you will be stuck in the game for a long time.
The descriptions for the decorations in the "SHOP" are very misleading. For example, the BARREL's description states: "Barrels can store liquids such as water and oil! Farmers love barrels for their usability and farm appeal!" This would lead you to believe you can buy/store extra oil and water, or something to that effect. NOT TRUE! None of the decorations do anything in the game.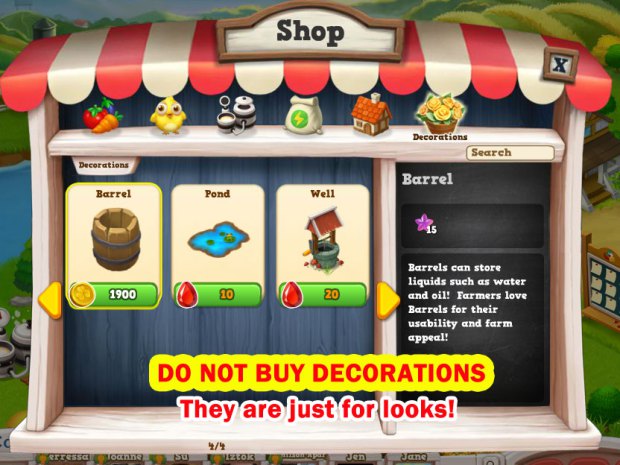 Detail of materials come from the Crops :


Iron : It comes mostly from: corn.


Aluminum : It comes mostly from corn.


Wood logs : It come from chopping down dead trees, and once in awhile from harvesting a live tree.


Oil : It comes mostly from corn.


Stone, clay, hand wheels, baskets, and glass panes : It come from completing Board Orders.
Other items like color paint brushes, boards/planks, etc…. are to be made by you in your workshop.
On some occasions, you can find materials for sale in the Market Stand or Newspaper. They go fast and usually for top price. Anytime you see materials that you can make other things with – such as iron, aluminum, wood, and oil – you should probably buy them.
Items that you will need the most: iron, aluminum, oil, baskets, glass, boards, stone boulders.
How to get Xp Points in a Quick & Simple Way
This tip is important and it works good enough once you are past level 10, and/or have several friends and community neighbors. Look at the bottom of your screen, here you will find a small button with an exclamation point. If you click on it, it will automatically sort through your list of friends, showing only those who need "help" clearing trees and brush, and feeding animals.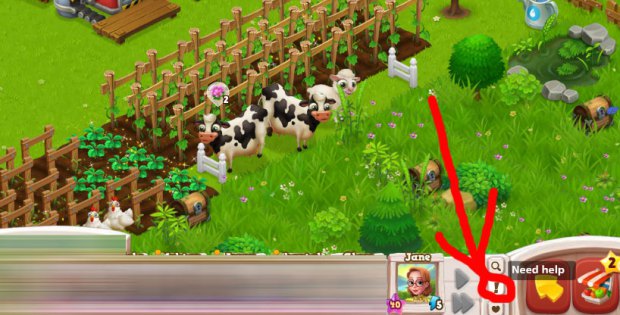 Go to each of their farms and see if there are any dead trees, ponds, rocks, or shrubs with a large yellow exclamation point above them. (You will see dead trees with no exclamation point, you have to ignore those). You have to click on all of the exclamation points.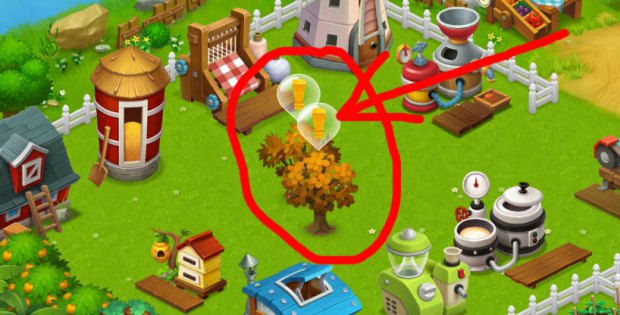 You will receive 15 XP points for EACH one! It takes 10 long seconds for the tree to be cut down, and for the XP to add itself to your total. You have to wait until this process is complete before going to the next farm or going home, or else you won't get the points.
Getting all Crops, Animals, and all trees to produce at one time
Keep watch on how close you are to leveling up. Right before you level up:
Be sure you have harvested your trees, crops, and animals (do not level up yet , leave a few if you have to). Plant the crops that you really want/need, are the most rare, and/or take the longest time to grow. Then complete a board order, collect a completed item, etc to level up. ALL of your crops will bloom, all of your trees will bloom, and all of your animals will be ready to be fed!
First Step: Harvest as much of your crops as possible without leveling up. This includes trees and feeding your animals.


Second Step : Plant crops that you really need/want, that are rare, and/or take a long time to grow.


Third Step: Complete any action(s) that will cause you to level up.


Fourth Step: Enjoy harvesting an entire farm of fresh, fully grown crops and trees. You can now also feed and harvest all of your animals.


Same method used on a higher level: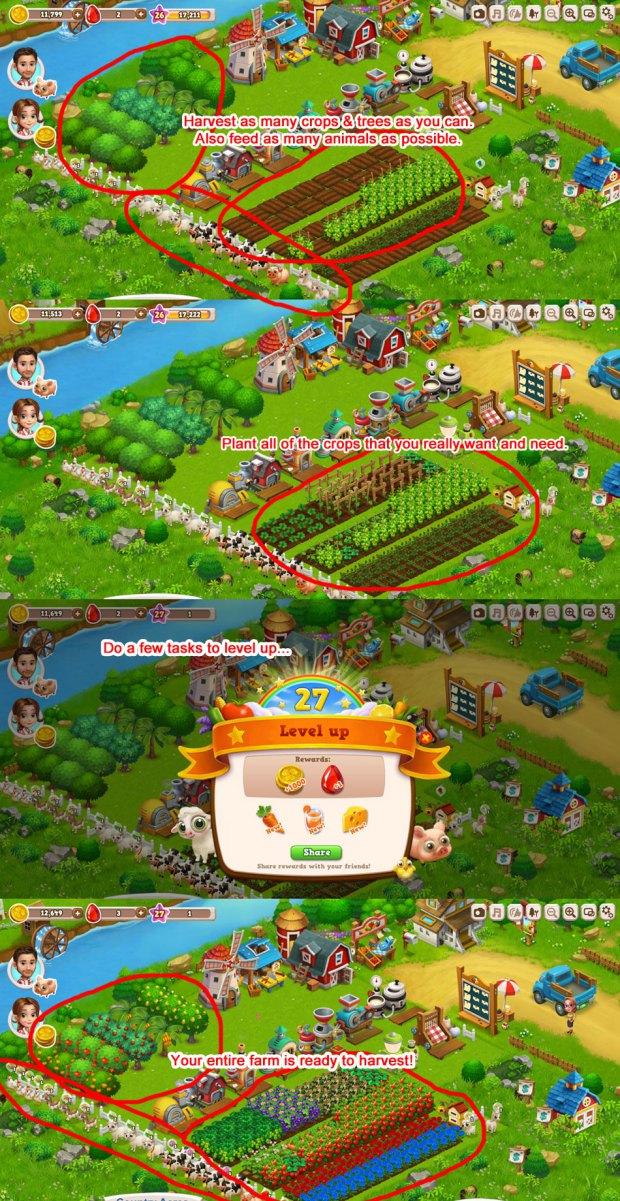 Take Note : No friends? No problem!
Not everyone has enough friends and family to play Facebook games with them. In case you want more friends to play Happy Acres with you, but there is no one else for you to add…no problem! After you've played through a few levels to get started, you will notice the far left "ADD FRIEND" box changes to "Add Community Neighbors". Click on this and click on the green "select all button". Wait for a few hours, and the next time you load the game, you might have some new friends! They don't receive your Facebook info, they can only play the game with you. After you go up a couple more levels, you may be able to add more Community Neighbors using this method.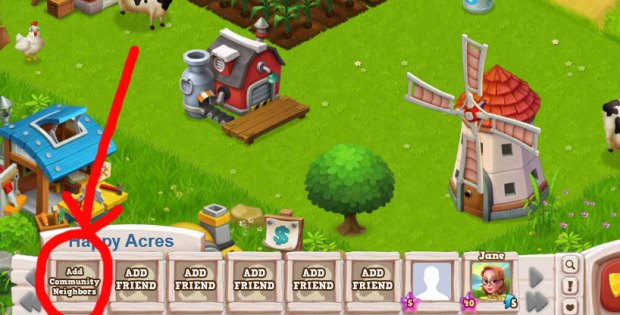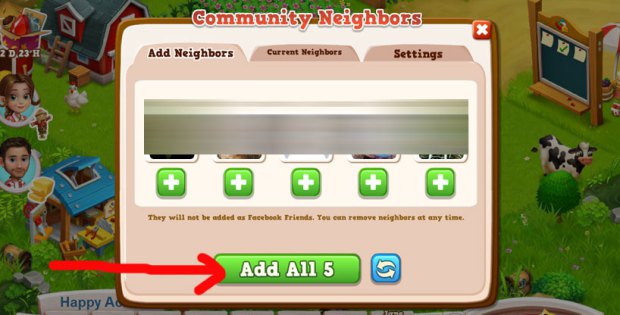 You want as many friends and community neighbors as possible because they help feed your animals, harvest your trees and crops, water/fertilize trees and crops, clear dead trees, clear rocks and ponds, buy items from your market stand, and you will have access to their market stand to buy items you may need.
When you reach level 10, there is a much quick and simple way to add many more Community Neighbors. At level 10, you will be able to click on the mailbox which is the "Newspaper". This will allow you to advertise items for sale in your market stand, as well as purchase items. When you purchase an item from someone who is not already your "friend", you will see a blue button that says "Add". Click on that button and it will send them a "add new friend request". After a few hours, when you load the game again, you will probably notice a new friend!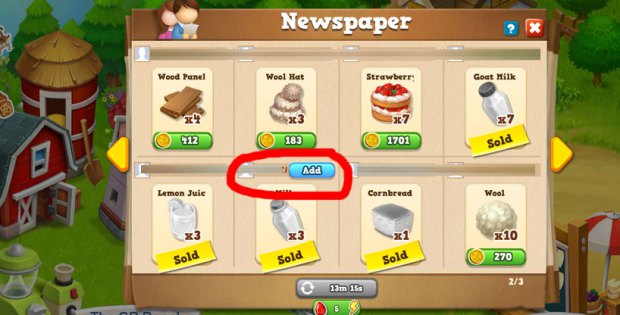 It is suggested not to add friends or family that do not play this game, or would not play very often. This will slow down your progress. If you have a friend or neighbor that abandons their farm or does not play as often as you do, you should delete them so someone else can take that spot. If you hover over their little profile image on the bottom a little red minus sign will appear, click on it to delete them.
Use of Set up to control Your Animals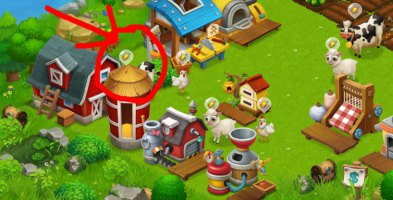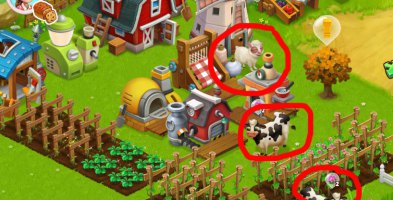 As you begin playing Happy Acres, your animals wonder around (as seen in images above). It can make it difficult to keep track of them and to feed them. They walk behind machines & buildings and it makes them hard to see – especially the baby animals. It can also make it difficult for people visiting your farm to chase them down and feed them.
You can control the animals by:
1. Fencing them in using fence, machines, trees, or farmland/crops.
or by -
2. Placing them on the edge of the map and blocking them with fence, machines, trees, or farmland/crops.
We bring some instances as follows:
Fenced in by crops:
This is a free & easy way to contain your animals. It can be difficult to see and feed them once the crops mature.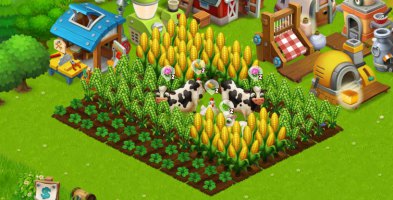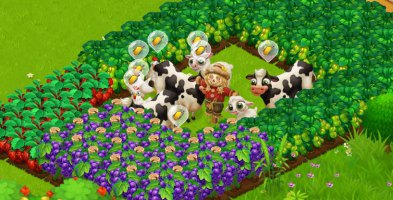 Fenced in by machines, trees, etc:
This is also a free & easy way to contain your animals. Using this method can make it very difficult to click on a specific animal or to see/click on items you've created with your machines.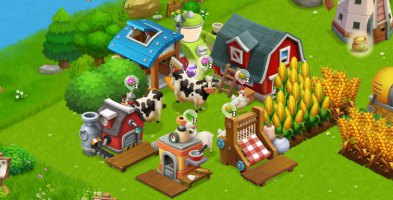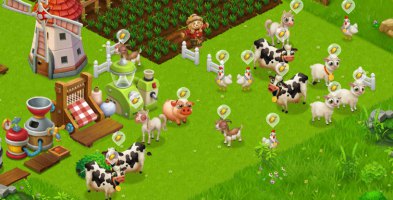 Fenced in with fences:
This method can be costly. (Hint: If you decide to use fencing, you don't have to place them right next to each other. You can leave a small space in between and they won't escape.) If you give the animals a large space, they will move around and bunch up – making it difficult to click on certain ones and to see the baby animals.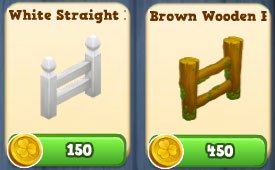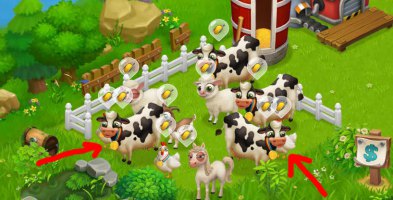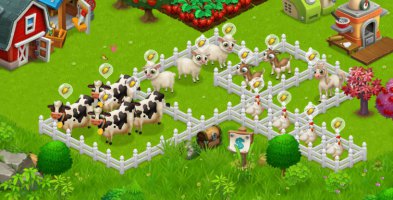 The best way:
There is a nice way to contain your animals, which is to line them up along the edge of your farm and place crops or fence behind them. Cows, horses, goats, pigs, and sheep need 4 square spaces, baby animals and chickens only need one. Once they are in place, they are easy to see, easy to feed, and they won't move.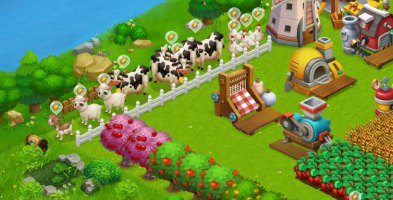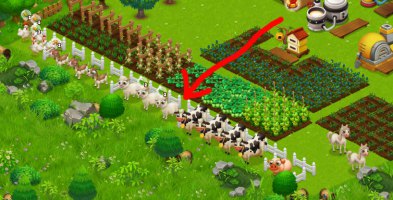 In case you use fencing, you can place the fence side by side, or you can leave one small space in between to save $.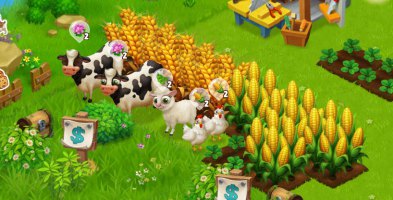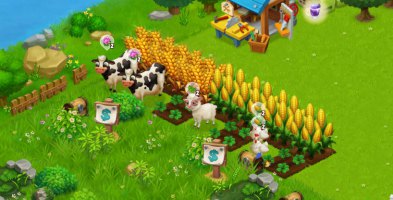 This Website is not affiliated with Happy Acres. trademarks are the property of their respective owners. Game content and materials copyright Happy Acres. all right reserved.