Dated: 3:06am on Thursday 9th July 2015
Strategy Guide About Power Ups, Boosters, Basic Tips, How To Clear Certain Levels.

Power-Ups and Boosters
Take Note that this will be a constantly changing section as and when I find new boosters and power-ups.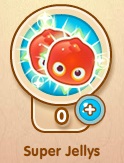 Super Jellys are one of the most powerful boosters you can use in the game. This is because, they can be gained in-game as well as added externally into the game. Also they can destroy whole rows or columns of jelly's, which are extremely useful in level modes where you have to bring down the diamond to the bottom of the board. They can be gained in-game by connecting a long chain of jelly's together. You will know when you will get one, as the connected jelly (without being popped yet) will flash white and there will be noise which you will hear. Do not think that these are pointless boosters.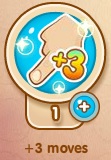 There are +3 Moves which can be helpful in situations, where you keep failing the level by a move or two. These can only be gained externally, and have to be applied before you play the level. You will see a green glow around the icon when it has been applied. You can gain more of them through natural gameplay, but to get them quickly, you can use 50 coins.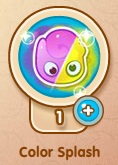 There is a booster i.e. Colour Splash which is an important booster to use. It removes all the jelly's of two certain colours from the board, and turns them into different coloured jelly's. When applied, you only have three different coloured jelly's on the board to make connections with. You can buy more of them with 90 coins.
Important Basic Tips
You should always try to make long chain jelly's in-game to get super jelly's. Super jelly's are very effective as they can remove whole rows or columns, which could make the level beatable in fewer moves.
You should always try and complete the level with as few a moves as possible because the moves left will give you points at the end of the game.
In case there is a mushroom in your way, use a super jelly to destroy it. Simply align the row up and then release your mouse button. Using super jelly's to destroy mushrooms, is a much better way to remove them as it may take several of your precious moves otherwise.
Asking facebook friends for lives is a quick and easy way to reload them. Or you could buy them with some coins.
To cheat your way through the level gates at the end of every 20 levels, you could set up three different facebook accounts and then give yourself some keys. (I don't do this, but it would work if you are really desperate).
Different Types of Levels
Reach a certain amount of points : At this level, simply you have to reach a certain amount of points. This could be 5000 points, 20,000 points or even 100,000 points. Just read the amount from the side of the board.
Clear all the grey slime : At this type of level, you should clear all the grey slime. This can be done by popping jelly's on the slime. Super jelly's will help here, as they could destroy a whole row of the slime in one go. For some levels, you might need to move a mushroom out of the way so your jelly's can pour in.
Free the captured jelly's : At this level, you are required to free the captured jelly. There should be a number to the side of the jelly. This displays how many times the jelly needs to be connected to, to release the jelly. For example if you has a red captured jelly with 10 by the side of it, you would need to connect 10 red jelly's to it. This does not need to be all in one go. Furthermore, you can use a super jelly which will count as a certain number of moves.
Splat the slime guards : At this type of level, you have to splat a certain number of slime guards. This can be done by popping jelly's next to the slime guards, which will then make the slime guards disappear. Also super jelly's can be used to remove a whole row or column of slime guards in one go.
Bring down the diamonds : At this level, you have to bring down a certain number of diamonds to the bottom of the board. You could be asked to bring down any number of diamonds to the bottom. Super jelly's can be used to remove the jelly's below the diamond, to make it reach the bottom easier.
This Website is not affiliated With Jelly Splash. Trademarks are the property of their respective owners. Game Content and Materials Copyright Jelly Splash. All right reserved.