Dated: 7:54am on Monday 10th June 2019
Strategy Guide About Kitchen Cash, Coins, Supplies, Star Tokens, Map, Recipes, Goals And More.
Important Elements
Kitchen Cash - It is Kitchen Cash, these can be obtained in levels as long as you get the 3 stars. They are useful to make upgrades.
Coins – It is coins, obtained through customer payments and tips.
Supplies - You have a limited amount of supplies, and spend 10 units each time you play a level. Once you run out of supplies you can ask friends for them or make a full refill for 6 Kitchen Cash. Supplies auto replenish if you give them time though. You will also see small icons showing friends that play the game in some levels, you can help them by sending them supplies as well.
Star Tokens - There are token gates and tokens are required to open token gates that allow you to keep heading forward.
How To Play?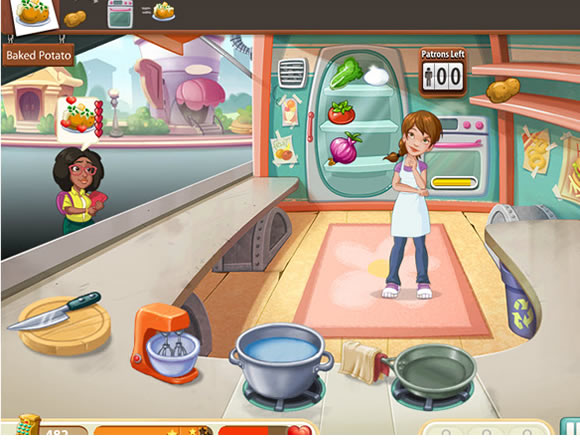 The game has a lot of fun and in the game, the most interesting or fun part of Kitchen Scramble relies on how fast you can actually deliver the cooked recipe to the customer. It may take multiple steps to be created. For instance, a simple baked potato only requires to grab the potato and put it in the oven, wait and once it's fully cooked, grab it and click on the customer. All this clicking needs to be done as quickly as possible.
Each level have a predefined set of recipes you will be asked from customers. The list of recipes for each level is shown in the menu right before beginning a level, along with the required coins to be obtained in order to get the stars.
New customers will start queuing, with a thought bubble on their heads, indicating the recipe you need to cook for them. The black and white counter, displayed on the top right corner of the screen, shows the "patrons left" which is the amount of customers to be served before you complete the level.
When you make progress in the game, you will come to know that some customers start to get impatient since you are delivering the recipe as fast as they would like to.
In case the recipe, once cooked, stays for too long in the appliance, it will overcook and will have to be disposed in the trash bin, wasting some precious amount of time, quickly take the meal off the appliance if you see the red bar. Always pay attention to the yellow bar as it fills up in the appliance.
You should take care of multiple recipes as levels get more and more complicated at the same time.
Important Note : In case the recipe contains more than two ingredients, you will have to first click on two of them, take them to the appliance and them come back for more ingredients, the cooking process will only start after you gather all ingredients in the appliance..
The Map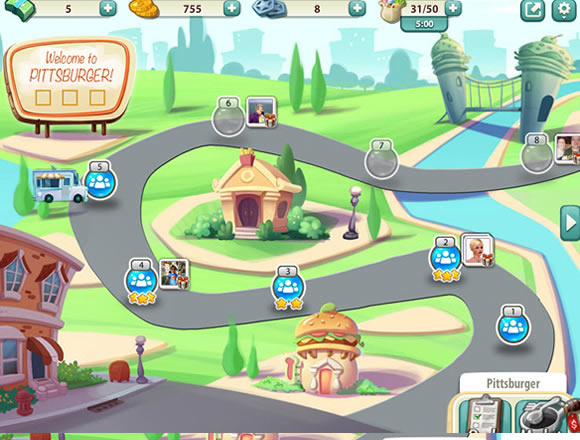 There is a map which shows the map and the city in which your food truck is currently in. Level completion is linear, so you won't be able to go forward without completing all levels first.
Location Goals - Complete any of these goals in the area you are in to earn extra gate tokens.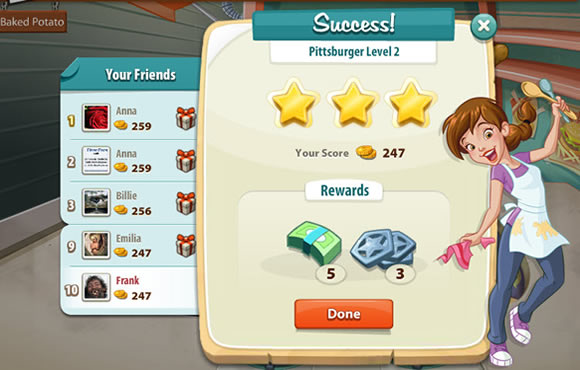 Buying of Appliances
Appliances are the whole range of objects needed to cook your food. Appliances need to be first unlocked and then bought from the store. You would not be able to begin some levels without buying a specific appliance first.
Availability of Upgrades
When you reach new levels, Appliance upgrades will become available. But why are upgrades useful?. Well, they allow you to cook recipes faster, and that eventually becomes the difference between getting more or less tips and also permit you to get to the so-desired 3 stars. Upgrades are very expensive and you will likely have to replay levels in order to get enough coins to buy them.
Important Tip - Customers tend to repeat a lot during the same level, but as you make progress and reach higher levels, you will find out that they will not always ask for the same recipe, even if they look the same.
At the start, upgrades are not necessary to buy, but may be a requirement in some levels.
Know about Recipes
Recipes are the formulas or combinations that result from Food + Appliances. Each new level might unveil a new recipe. Earlier recipes consist of just a single appliance and one or two indredients, but more advanced recipes require multiple steps consisting of several ingredients and many appliances. This is when the game gets really hard to beat.
The first appliance you will get is the oven. Appliances are unlocked as you complete and unlock new levels.
Practice Mode – When you finish level 5, you will be offered to practice recipes, both old and new. After this mode is unlocked, just click on the recipe displayed to the right of each level before you begin.
Power Ups - These items, given randomly after a level is completed, will give you some bonuses and advantages, for instance, the fire extinguisher prevents recipes from getting burned.
Three (3) Stars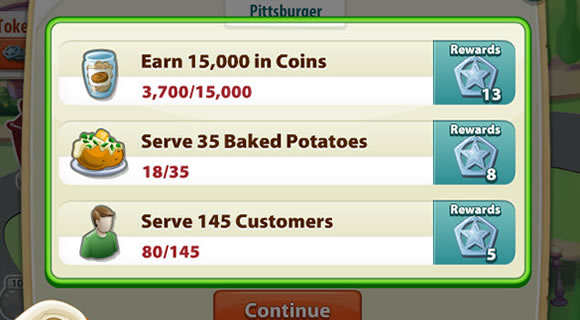 When you finish each level successfully, you will get a score. This is determined by the amount of coins you received, which are the sum of payments + tips. If the score is high enough, you will get 3 stars. If you do not manage to get the 3 stars, just position the mouse on top of the empty star to see the score cap required to get it.
Important Note : Never forget to play with sound effects on, they bell sound is incredibly helpful to warn you that a recipe has just been completed.
Know About Premium Ingredients
Premium Ingredients give you more coins when included in the meal served to the customer, receiving more in payment and tips. You must click on the premium ingredient on the menu prior to begin the level. These premium ingredients are scarce, and randomly given after completing levels.
Important Tip - To get ahead of your patrons orders, gather the ingredients and stay right next to the appliance so that you can take what has been cooked and put the ingredients you were carrying, by doing so, there will be a lot of saving of time.
This Website is not affiliated with Kitchen Scramble Cooking. trademarks are the property of their respective owners. Game content and materials copyright Kitchen Scramble Cooking. all right reserved.