Dated: 7:47am on Monday 10th June 2019
Tips, Hints And Tricks To Achieve Higher Scores And Earn Multiplier Bubbles.
There are many reasons to play this game Lost Bubble. Due to its uniqueness, everybody wants to play good. Due to the objective relating to enchanting Greek mythology backdrop, challenging levels and an "out of the Pandora's Box" , people want to play the game. With a gorgeous Greek goddess by your side, you match 3 or more same-colored bubbles. But the level gets completed successfully only when you drop a Pandora's Box and earn at least one key.
There is lot of fun and excitement in this game. However, Lost Bubble can get quite challenging as you progress. The information about this game has been compiled as to give useful tips, tactics and hints that will help you achieve higher and higher scores. You can earn multiplier bubbles and help you in completing challenging levels.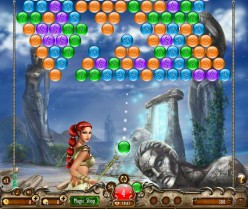 Tips, Hints and Tricks
Before you complete a level, know your objectives. In this game, there are two objectives to complete before you reach the next stage:
In every level, you will find Pandora's Boxes – Red colored cubes. You will have to drop one them using your bubble shooting skills.
Earn at least one key from three keys to get to the next stage.
You will have to drop the Pandora's Box without hitting it. If the shooter bubble hits the box, you will have to re-play the level.
Around the Pandora's Box, target the bubbles. This way it will be easy to drop it. Once the last Pandora's Box drops, it will trigger a massive bubble drop.
Key can be earned by scoring enough points. You will get failure to complete a level even though you have dropped all Pandora's Boxes.
It all depends on your match-3 skills. Match those bubbles that trigger drops. Make the most out of the side walls. Advanced levels will force you to do that, so start practicing hitting side walls and pop bubbles from the initial levels.
Every shot costs a bubble. There are only 30-40 bubbles per level. Plan before you pop bubbles. Check the color/design of the unused bubble before using the bubble on the magic wand. Do not run out of bubbles before dropping the Pandora's Box.
You see that falling bubbles give lot of bonus points and goodies. You will notice stars, candies and other stuff appearing out of dropping bubbles. You will have to click on these goodies to collect them and earn bonus points. You can also mouse-over on them to collect quickly. If you don't, you might lose them and won't earn any bonus points.
You also get a chance to collect a bonus bubble. This usually happens during massive bubble drops. Click on the bonus bubbles to collect.
In-between levels, players also get to a chance to buy power-ups. They can be bought for real cash or gold coins. Always buy the ones that require gold coins earned in-game. They can be more useful compared to the ones bought by Facebook credits.
Tips regarding Multiplier Bubbles
A special "multiplier bubble" appears when you pop bubbles three times in a row. This special bubble glows and looks quite different from other bubbles. You will also find a number etched on it (x2, x3 etc.), which indicates the number the score will be multiplied by. When you hit the multiplier bubble to make a match, you double/triple the score. It also triggers the multiplier meter (check out the glowing rope to your left).
Once you trigger it, the multiplier meter keeps on increasing your score. But you will have to keep popping bubbles to keep the momentum going. It will stop multiplying your score and come down if you miss a bubble match. You will have to start from scratch, earning multipliers and triggering the meter.
Multiplier bubbles vanish when you miss a bubble match. When you see one, target the multiplier bubble first (if it's reachable). Also, don't worry if you can't reach a multiplier bubble. It will stay there as long as you pop bubbles.
When you target a multiplier bubble, make sure it involves a bubble pop (match). Simply hitting it won't trigger the multiplier. You will also lose it.
This Website is not affiliated with Lost Bubble. trademarks are the property of their respective owners. Game content and materials copyright Lost Bubble. all right reserved.