Dated: 7:47am on Monday 10th June 2019
Strategy Guide And Tips Tricks To Complete Levels, Row Blast Jewel, Column Blast Jewel, Lightning Gem, Cross Blast Gem, Bomb Gem, Fire Blast Gem, Talismans And More.
We bring you hints, tips and tricks of the game Lost Jewels. Everyone wants to make strategy to win the game and to face challenges. In this game also, there are lot of challenges which we face at different stages in the game. Some stages contain sub-levels, which need to be completed to finish an entire level. Many levels require you to get rid of all gems on the board and bring down treasure chests at the bottom row.
Some people think that this challenging game is very interesting. Presently, there are many puzzle games on facebook but people like to play this game Lost Jewels due to the fact that none other game is so challenging than this. With a "lost civilization" theme and exotic artwork, this new gem-swapping game lets gamers match three or more shining trinkets. The best part is that players can match three or more gems of the same color in any way they like – vertically, horizontally, T-shape, even L-shaped matches.
Fun power-ups called talismans have been introduced in this game which keep on getting unlocked when we reach at certain levels of milestones. Other in-game surprises will keep you at the edge of your seat. You must thoroughly read this guide to know the tips and hints of this game.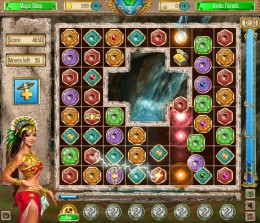 Tips and Tricks
Hint system should be used when you do not find a potential match. There will be an arrow between two gems. Use this arrow. The arrow indicates that a match can be made.
When you complete quests which require you to push the treasure chests at the end of the game board, try not to follow the hint system. It can be misleading at times. You might miss upon a potential match that can immediately push a treasure chest at the bottom of the screen. Work on your grey cells, you may find a much better match than the match shown by the hint system.
There is no time limit, only gem-limit. You will have a limited number of gems to start with. As you progress, the gem limit may increase depending on the difficulty level. Some game levels will have multiple sublevels, which need to be completed in 30-40 moves. This can make things a bit difficult. You will need talismans to be quick in getting treasure chests at the bottom of the screen. Also you will have to take maximum advantage of special gems that are created out of certain pattern matches.
Notice the combo bar at the bottom of the game board. The bar fills up with each match. You will need to be quick while matching gems before the blue liquid moves back. The quicker you are in matching gems consecutively, the quicker the bar fills up.
A long combo bar will earn you more crystals that get extracted from the matched gems. Each colorful jewel has a socket where a crystal is mounted. When you make a match, the jewels fall and the crystal gets collected in a blue glass jar located at the right side of the screen. Get a long combo bar and see how quickly the glass jar fills ups with those crystals.
Collect crystals to earn Spheres. These spheres can later unlock special talismans or power-ups, which can be bought with the coins that are earned after completing levels.
There is another advantage of getting crystals. Your special gems get more charged if you have plenty of crystals on the blue glass jar. Charged special gems glow a bit and once they are matched can unleash more gem destruction then uncharged ones.
Earning of Special Gems
Special gems can be earned by fulfilling certain patterns while matching gems. These gems are nothing but boosters that help you get rid of jewels, earn more crystals and score more points. You also get to see cool special effects (Not for the epileptic) when these gems get activated. Here are pattern hints that will help you get these special jewels:
Row Blast Jewel: Match 4 jewels of the same color in a row. You can then match this special gem with other gems of the same color to get rid of all jewels in a row.
Column Blast Jewel: Same as row blast, but with this jewel all gems in a column get destroyed.
Lightening Gem: You get this gem by matching 5 or more jewels of the same color in a column or row. Once this special jewel is created, match it and it will unleash lightning bolts, destroying random jewels on the game board. Not so useful in my opinion.
Cross Blast Gem: A T, L or U-shaped match creates this awesome special jewel. As the name suggests, Cross Blast gem destroys all gems in a column and a row at once soon after you match it with other gems.
Bomb Gem: You get a special dynamite gem when you match 6 jewels of the same color in any way (horizontal, vertical, T-shaped etc.). Matching a bomb gem with other jewels destroys all adjacent jewels.
Fire Blast Gem: You get a Fire Blast gem when you match 7 gems of the same color. Match the Fire Blast gem with surrounding gems to get rid of all jewels of the same color on the game board.
Special Tip: Swap special jewels to get some cool special effects and it can be possible when one special gem is next to the other special gem. No color matching criteria here. Just swap and enjoy surprising results.
Additional Tips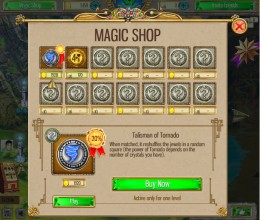 After you complete a set number of stages, Talismans get unlocked. When unlocked, you can buy them by paying in-game coins, which you can collect by completing levels. To access unlocked Talismans click Magic Shop located at the top-left corner of the screen.
You will see in Magic Shop that some Talismans (power-ups) require facebook credits to use them. You may ignore those and buy the ones that require in-game coins. However, some of the premium power-ups can be quite useful. But it is up to you to consider and decide. You can complete this game without spending a single dime.
This Website is not affiliated with Lost Jewels. trademarks are the property of their respective owners. Game content and materials copyright Lost Jewels. all right reserved.