Dated: 7:54am on Monday 10th June 2019
Strategies About, Store Decoration, Designer Collections, Things To Be Bought From Catalog, Squeaky Clean Bonus, Dressing Room, Gift From Neighbors, Look For Neighbors.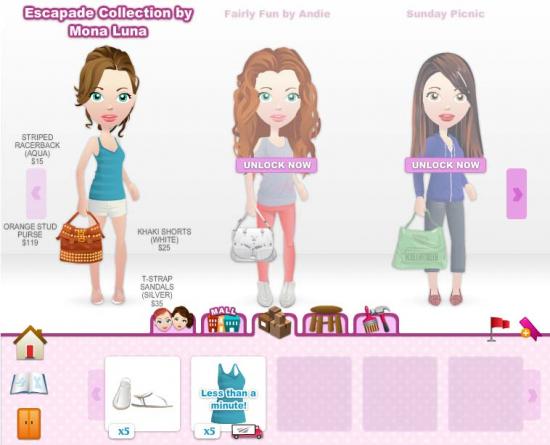 Know about Game:
A Guide for the game Mall World has been prepared to give knowledge and information to the people who love to play this game. It is a facebook game. In this game, players can start their own boutique be creative by decorating it. Fashionable items are offered to earn profit, mini games can be played by assisting customers. Also, shopping can be made at malls to show off taste for fashion. The guide contains lot of tips and tricks to meet the interest of the people.
Store Decoration
At the start of the game, there will be sufficient money to spend for starting purchasing the necessary things. Start off by buying a couple of shelves, racks and displays. Counters, registers, rugs and other decorative items can be bought later in the game. You can opt to spruce up your store a little bit by getting new floors and wall paper but don't get too creative just yet.
A small steel bar and small wooden shelf can accommodate 3 to 4 items. About 2 of each is enough to start off so you can have a total of 12 to 14 items to sell.
Designer Collections
You can earn by selling items from the catalog. The first few levels will unlock at least one collection for you to offer at your boutique. As expected, these items are cheap which means you earn little profit.
Invest in unlocking more collections per level to give you a wider range to pick. Unlocking collections cost money so check your budget first. A collection can cost from 200 to 2,000 mall dollars and even more as you level up. The higher the cost, the more expensive items are but have higher profit margins.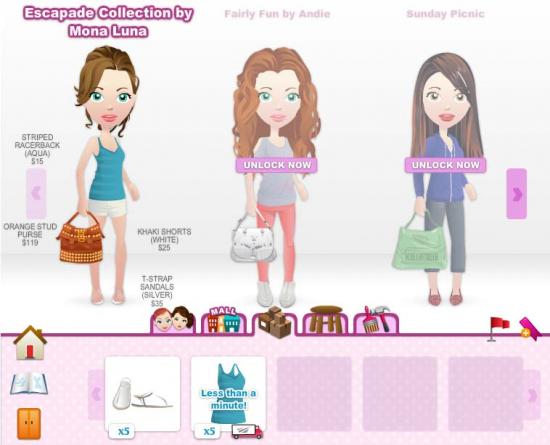 Things to be bought from the Catalog
Each player will start off with a random collection but items are mostly inexpensive. You will notice that each level will have about 1-2 locked collections. Once unlocked, items are available for purchase.
It is recommended to buy shoes and bags since they cost more and have a higher profit margin. Some dresses are expensive too but take a look at the individual prices before you purchase them.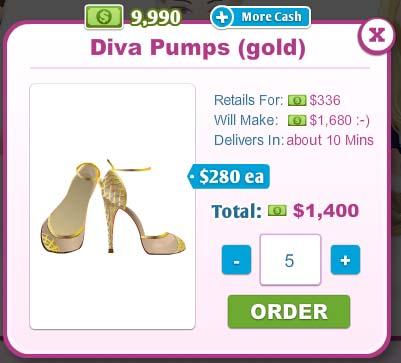 Squeaky Clean Bonus
Extra money can be earned by going to your friend's store and clean it. Shoppers tend to drop items and it makes stores look unprofessional and cluttered. Help them out by clicking on items on the floor until they are squeaky clean. You are rewarded $20. You can also clean your own store. The more neighbors you have, the more chances you have of getting the bonus.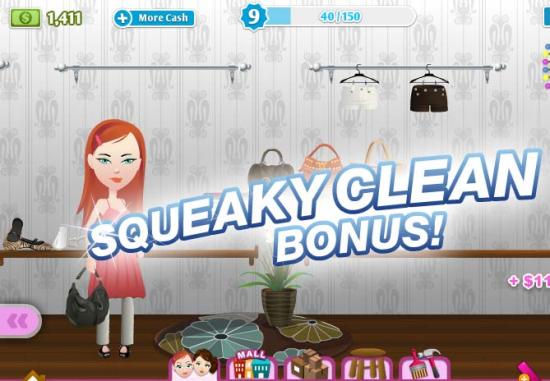 Dressing Room Game
You can also earn money by playing a mini game which is available for you. Experience points can also be earned. While you wait for shoppers to buy your inventory, you can spend a few minutes playing the dressing room game. The objective is to help the customer pick the right combination of clothes and shoes to match the item being shown, which usually is a bag.
You have 30 seconds to pick your items and your guide is the hotness gauge that is found at the left side of the screen. The higher the meter is at, the more coins and experience points you will get. There is a limit of 5 customers per day so make sure you get high on the meter every time.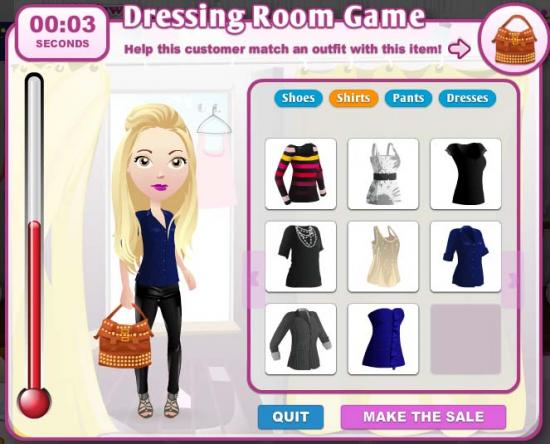 Send and Ask for Gifts from Neighbors
There is another method to get more items into your inventory. Send gifts to your friends and you will get into a loop of gift giving which means you'll have tons of free items to sell in your store. You can check your at your Facebook homepage if there are any requests or gifts given by friends. Another way is to load the game and you'll see a gift box near your counter. When you click on the box, you will be asked to accept it.

There is one catch though. When you send the gifts or if you receive them from friends, you need to "Return the Favor" before it goes into your inventory. When you check in again (or refresh the game), you'll see it in your inventory and can now drag it to one of your racks to sell.
Create a Look for your Neighbors
Do you want to showcase your expertise in fashion? Then create a look for your friends! You can click on a shopper who enters your store and start creating the look you want for your friend or neighbor. You can also visit them at their store and click on their Look Book. Pick an ensemble and send it out with a personal message. Once it has been sent out, your friend can check out her own Look Book.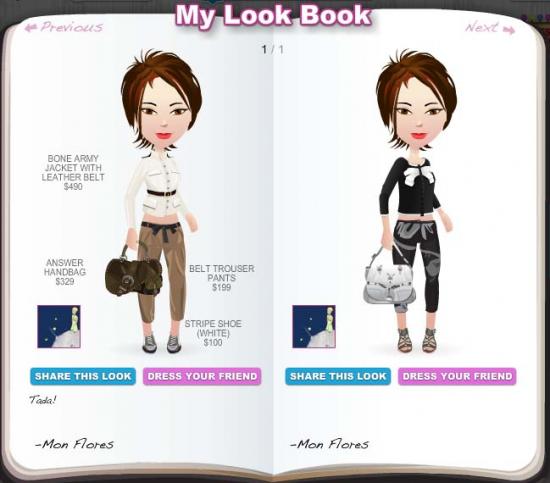 You can check other versin which your friends may have sent you as to what you should have in your closet. When you open your own Look Book, you will know who sent it and their suggested ensemble. When you hover your mouse on to the model, you will see the individual pieces, which you can opt to buy for yourself. Take note that you will be buying it at retail price.
This Website is not affiliated with Mall World. trademarks are the property of their respective owners. Game content and materials copyright Mall World. all right reserved.