Dated: 3:03am on Thursday 9th July 2015
Get More Command Points (CP) Claim Daily Rewards, Free Command Points, CP Farming, Progress Rewards, Epic Boss Progress
Command Points are used for recruiting new Heroes in the Team Management screen. The primary way of obtaining Command Points is Gold, but since not everyone can afford Gold for getting CP, some ways and strategies on how to get free CP are being given below: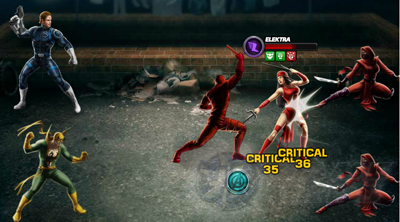 IMPORTANT NOTE! NEW!
If you can't get CPs from enemies anymore, this is because Playdom MAA nerfed or removed the drop rates of CPs after the July 2012 Game Update!.
CP farming from here on will become harder specially for new players.
For alternative methods, do the usual methods or see Roulettes info below.
Note: Elektra CP Farming is no longer available in the game and in this guide!
Free Command Points
Basic Methods
Every time you defeat a Mission or an Epic Boss, you will have a chance to get 1, 3, or 5 Command Points from roulettes.
Getting a 5 Star Mastery per Mission will give you free 5 Command Points.
Remote Ops rarely gives Command Points too.
Claim Daily Reward NEW!
- Log in every day to claim 2x, 20x or 50x Command Points!
CP Farming (Roulettes)
Notable Roulette Runs
Both [Chapter 3 - Mission 5] and [Chapter 4 - Mission 4] takes about 90 Energy per run. 2 roulette spin chances from Boss and Epic Boss for a maximum of 15 CPs.
If you just want to quickly reach the roulette, [Chapter 7 - Mission 3] will only take a total of 30 Energy per run. 1 roulette spin chance from Boss for a maximum of 5 CPs.
More Chapters and Missions will come, so if you think you are comfortable with your CP farming strategy, then go for it! Good Luck!
Season 2 Command Points: Progress Rewards
Chapter Progress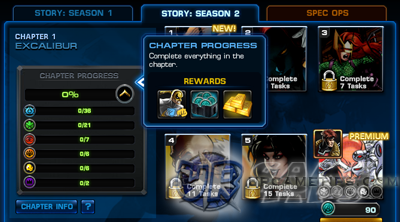 Complete all tasks, deploys, heroic battles, incursions, epic bosses and challenge modes in a Chapter to complete it. Completing a Chapter will grant awesome rewards!
Epic Boss Progress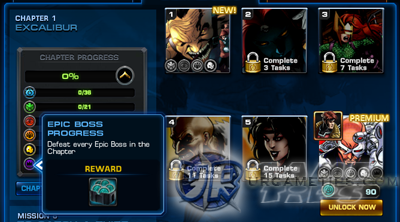 Find and defeat all of the Epic Bosses in the chapter. While there used to generally only be one per chapter in Season 1, Season 2 chapters will have more than one. Look at the mission icons to see which missions feature an Epic Boss.
This Website is not affiliated With Marvel Avengers Alliance. Trademarks are the property of their respective owners. Game Content and Materials Copyright Marvel Avengers Alliance. All right reserved.