Dated: 3:03am on Thursday 9th July 2015
Tips About Power Levels On Weapons To Determine The Ideal Maximum Level For That Weapon.
Power Levels on weapons determines the ideal maximum level of your Agent for that specific weapon. You may still use that weapon even at higher levels but it will generate some penalties, refer below to learn more. This is also a good way to learn when to start looking for new weapons.
Weapons Guide
Effects of Power Level
Weapons' Total Damage dramatically increases as you reach the weapon's Power Level. After that, it will stop because it has reached the cap. It would still increase though but it will be dependent to your Agent's stats per level.
Note that Hit / Critical are also dependent to your Agent's stats.
Here's an Example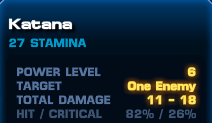 Lvl 4 Agent
2 Levels lower than Katana's Power Level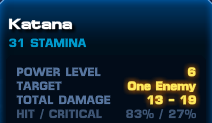 Lvl 6 Agent
Same Level with Katana's Power Level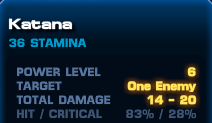 Lvl 8 Agent
2 Levels higher than Katana's Power Level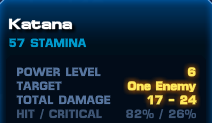 Lvl 16 Agent
10 Levels higher than Katana's Power Level
Although it is still usable up to this level, the Stamina requirement is too high for it's damage return! It's time to get a new weapon.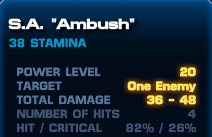 Lvl 16 Agent
Same Level with S.A. "Ambush" Power Level
Now this is better because you will only spend 38 Stamina for a reasonable damage output.
Excelsior Weapons
Unlike other weapons, Excelsior weapons grows in power based on Agent's level.
Weapons with Buff or Debuff
Some weapons are still usable and very valuable to discard. Keep them for your strategies.
This Website is not affiliated With Marvel Avengers Alliance. Trademarks are the property of their respective owners. Game Content and Materials Copyright Marvel Avengers Alliance. All right reserved.