Dated: 7:54am on Monday 10th June 2019
Strategy Guide About Battle Strategy, Farm Foods, Gems For Free, Gain XP To level Up Faster, Breeding Mountain, Build Four Basic Habitat.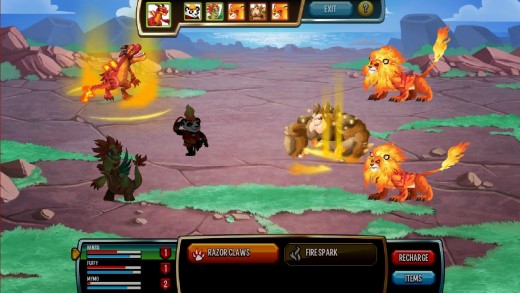 Five Methods to Get Your Battle Strategy Right
There is an Adventure map which gives you a chance to battle a host of deadly creatures. You also get a chance to fight boss monsters and earn free gems, XP, Gold, and other rewards by defeating them. Battling monsters is simple, but defeating them is not easy. Some strategy is involved there. We give some tips to get your strategies right to defeat hard-to-beat monsters:
1. You should Know the elemental affiliations of your monsters and your enemy's monsters. Before hitting the "Fight" button, you get a chance to get your formation right and know who your enemy is. Check the enemy's elemental affiliation. Remember that each element is stronger or weaker against certain other elements. For example, monsters guarded by the Water element do additional damage to monsters belonging to the Fire element. To know more about creature elements and their strengths and weaknesses, refer to the table below:
| | | |
| --- | --- | --- |
| Element | Stronger Than | Weaker Than |
| Thunder | Water | Earth |
| Earth | Thunder | Dark |
| Dark | Earth | Light |
| Light | Dark | Magic |
| Magic | Light | Nature |
| Nature | Magic | Fire |
| Fire | Nature | Water |
| Water | Fire | Thunder |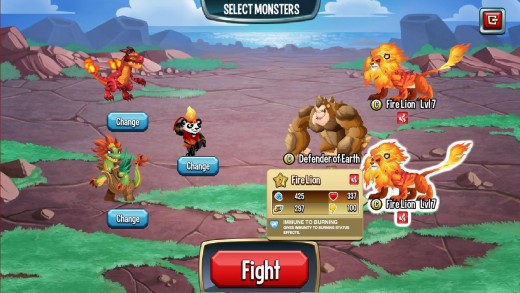 2. You should form your team correctly. When you have identified your enemy, it is time to get your team formation right. Choose monsters with elemental affiliations stronger than the enemy monster(s). Click on the "Change" button to switch to a stronger creature if you think the current one is weaker (level-wise or element-wise) than the enemy monster(s). Do not click the "Fight" button until your team is formed the way you want it.
3. You should know your monsters' special skills. Knowing special skills beforehand can be extremely helpful. You can choose only those creatures whose skills can inflict maximum damage. Each monster has its own special skill. To know its special abilities before a battle, click on a habitat > monster icon. You can find out the unlocked and unlockable abilities in the skills menu.
4. You should find out about multiple-enemy damage. Several of these skills inflict damage to one enemy at a time, whereas a few inflict damage to multiple enemies. For instance, Pandaken's Firewall skill inflicts damage to all enemies, but requires cooling down for one turn. You can check if a monster's ability does one-enemy or multiple-enemy damage by placing your mouse cursor over a skill in the "Skills" section.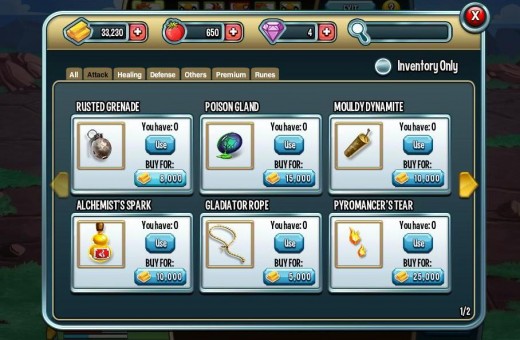 5. Know about Special Items : You should use special items during battles. While battling, you can choose special attack, healing, or defense items by clicking "Items" just below the "Recharge" button. Click on the "Buy" button to purchase them using gold, and then the "Use" button. Then click on the enemy monster (if it is an attack item) or the friendly monster (if it is a healing or defense item).
Food Can Help Your Monsters Defeat High-level Enemies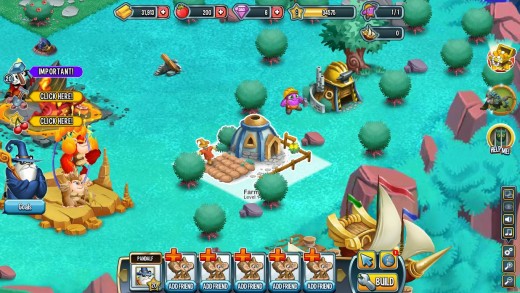 Build Farms
There is no doubt that you will encounter high-level monsters that are hard to defeat and less vulnerable to damage, so you will need your own higher-level monsters. Be sure you level-up your monsters at regular intervals and use them in the battlefield. To level-up your monsters, and make them stronger, feed them.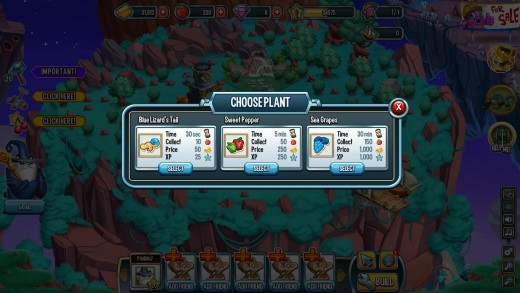 How to Farm Food
You should build multiple farms to grow food. Click on the "Build" button associated with "Farms." Next click on the farm and select "Grow Food." You can grow three types of food: Blue Lizard's Tail, Sweet Pepper, and Sea Grapes. The longer their growing time, the more Food points they yield (see below).
Comparison of Three Crops
| | | |
| --- | --- | --- |
| Food Type | Growing Time | Food Points |
| Blue Lizard's Tail | 30 seconds | 10 |
| Sweet Pepper | 5 minutes | 50 |
| Sea Grapes | 30 minutes | 150 Food, plus 1000 XP |
You should build minimum three farms, grow some food, and collect the food when ready. Next, click on a "Habitat" > "Monsters" > "Monster" icon and then click on the "Feed" button. You can click on it multiple times to level-up your monsters. Tip: You can collect 500-5000 Food by fighting monsters.
Remember to upgrade your farms, which is an option once you pass level 9. Upgrading them will raise the max limit from 150 to 3000 Food.
You Can Get Gems for Free: No Hacks or Tools Required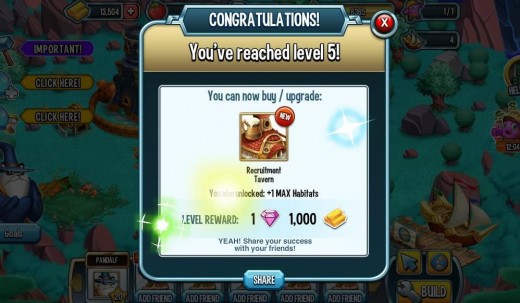 Gems have great importance in Monster Legends. You can use them to speed up breeding, farming, and the construction of buildings. These rare trinkets can be bought for cash. Although players often seek hacks and tools to get gems, and some of these tools do work, most are just breeding ground for malware monsters.
There are legit ways to get gems.
You should know the best method to earn free gems which is to collect XP and level-usp, because you get at least one free gem with each level-up. The level meter at the top of the game screen shows how many XP you've collected and the remaining XP you need to level up.
Many methods are there to get XP. Follow these tips to get quick XP and level-up quicker.
1. Goals completion: You should look for goals located to your left. Complete them and earn around 500 XP. You can click on a goal to find out what rewards are in store for you after completing it.
2. Clear Debris: You can earn additional XP by removing trees, small and big rocks. (Large and medium rocks give 5000-15000 XP and trees up to 500 XP. The only drawback is that removing these items takes a few minutes (or more than an hour, for a big rock), and while your worker is busy with this you won't be able to construct buildings.
3 Fight monsters in the Adventure Map - Fighting monsters will earn you 1060 XP. Each level gives you around 1000 XP. So buckle up and battle creatures to level-up faster. Fighting Boss monsters in the Adventure Map can earn you three to five gems.
4. Adding Friends - Additional rewards can be earned by you by adding friends and visiting their islands.
Breed Monsters to Hatch Powerful Creatures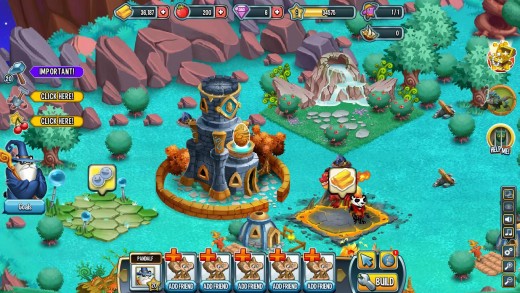 Breeding Mountain
One of the best aspects of this game is monster breeding. We have seen this inDragon City, and now Monster Legends allows players to do the same, with more unique monsters to breed. Here are some breeding tips to create more powerful creatures:
Build all four basic habitats : Fire, Nature, Earth and Water (can be unlocked at level 10). You can keep a maximum of two monsters in a habitat. Expand your habitat by upgrading, or build another.
Buy eggs and hatch them in the hatchery. Once the monster is hatched, put it in its respective habitat.
To breed monsters, you will require two monsters from two different habitats. You should click on "Breeding Mountain" > "Breed" and select two creatures from the list. Next, click on "Start Breeding."
You should combine elements when you breed. You can breed a number of powerful creatures that possess qualities of both parent monsters. Just get your combos right. You should keep tabs on elemental affinities of each monster and combine monsters belonging to two different elements to create a stronger monster.
This Website is not affiliated with Monster Legends. trademarks are the property of their respective owners. Game content and materials copyright Monster Legends. all right reserved.