Dated: 3:06am on Thursday 9th July 2015
Strategy Guide About Energy, Cash, Coins, Stars, Tips And Tricks.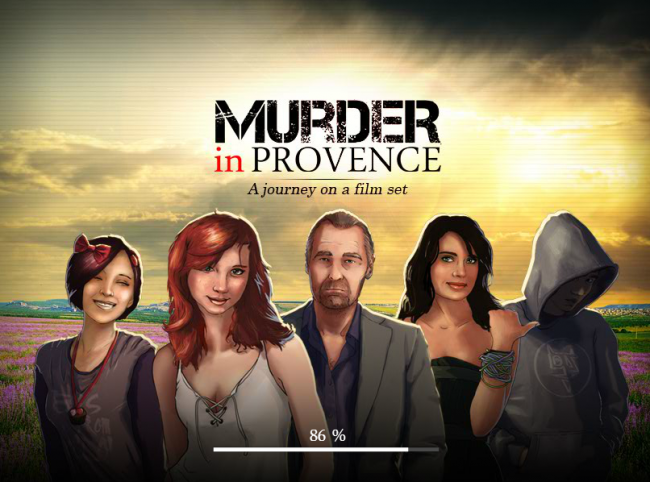 Game Options
Main Menu - There is a main menu which will act as a hub from which you can access all chapters you currently have unlocked. Simply click on the chapter you wish to play to open that chapter's sub-menu.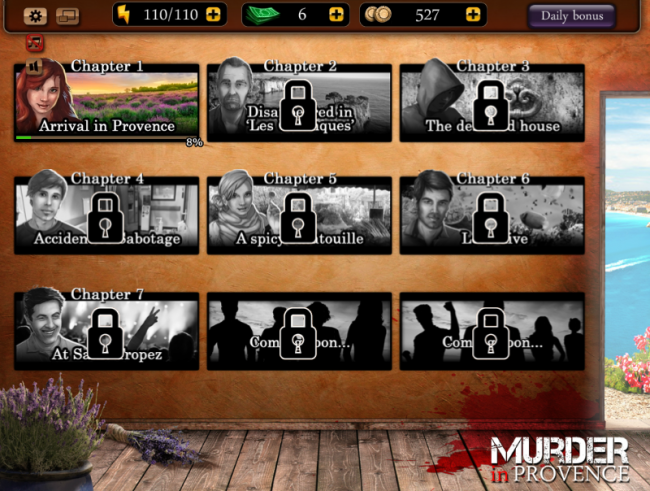 Menu Bar - Look at the top part of the menu which is home to a navigation bar that displays information about your current resources available and provides a way to alter game settings/sound. Run the mouse along each menu item for a brief explanation of what each item is.
Chapter Sub-Menu - As you click on a chapter to play, you will see all the scenes you've unlocked on the left and puzzles you've unlocked/completed on the right. Simply click on any of them to play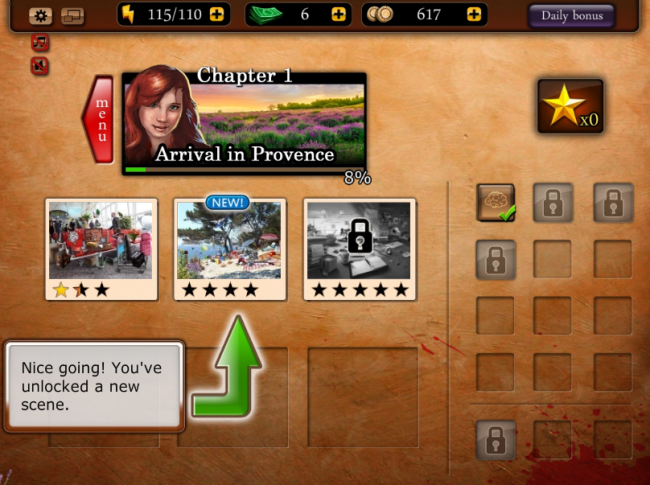 How to Play Murder in Provence
Murder in Provence will take you on a new journey and there are hidden objects nestled in specific scenes, solving puzzles, and engaging in scenes with dialogue to advance the plot.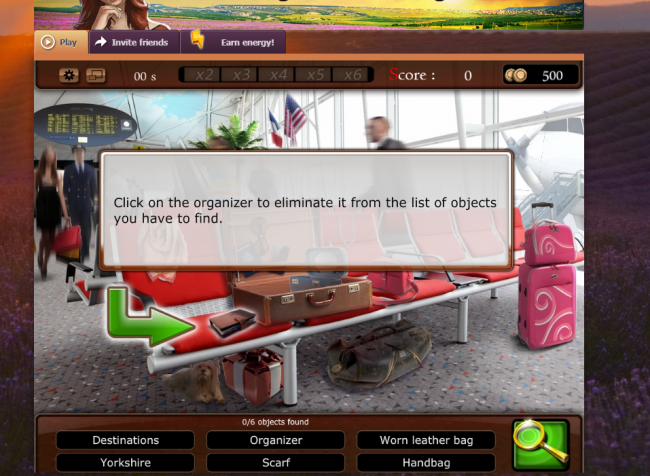 Hidden Object Segments – It will be self-explanatory, but these sections require you to pick out items from a list that are hidden in a scene. Look at the bottom part of the screen where list is displayed, and you can tackle them in any order. Just scan the scene for the items you are tasked with finding, and then click on them when you spot them. The quicker you are, the more you will score at the end of the level. Once you've found an item, its name will be cleared from the bottom of the screen. When you've cleared out the list, the section is complete. If you need help scouting out an item, you can click on the magnifying glass at the bottom right of the screen, which will cost you a few coins.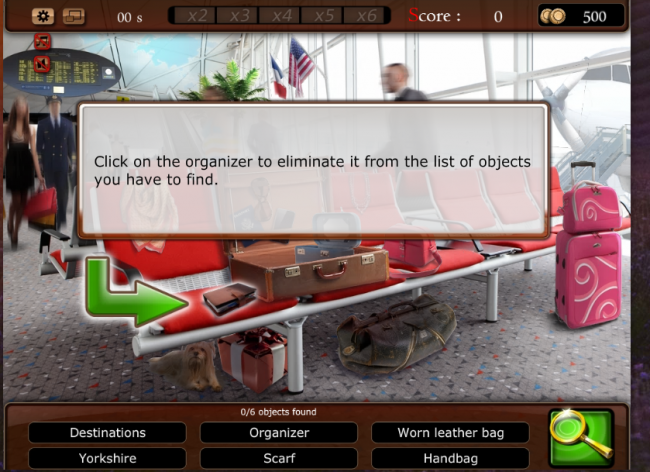 When you click on the magnifying glass, one of the items will randomly be revealed to you, and all you need to do is click to clear it from the game scene. Continue finding items to cross them off the list, and eventually the level will be complete! However, you may need to return to previously cleared levels in order to earn stars. As you return to each level, the number of items that need to be found and how they are obscured becomes more difficult. The quicker you are, the better, as you will rack up more points and more progress toward another star. Keep playing for a better score and a better star rating. Bear in mind that playing these sections requires energy, which will regenerate after a short wait, or you can request additional energy from friends who also play the game.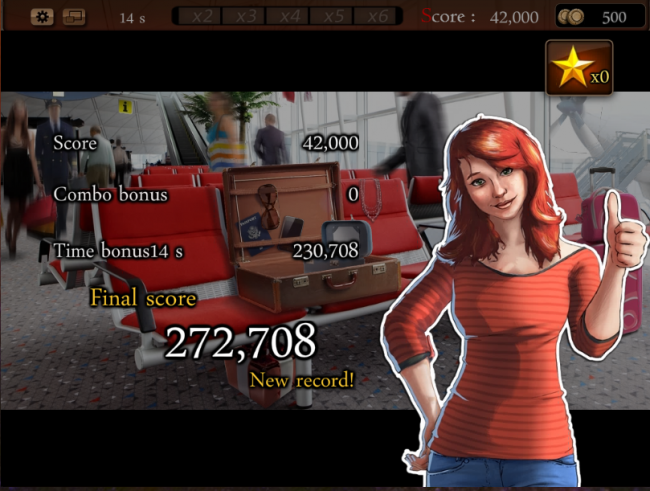 Puzzle Sections - You are required to complete hidden item sections in order, but sometimes you would not be able to proceed until you've earned enough stars to continue or you have finished a logic puzzle that aids in furthering the story. From the main menu, these puzzles are located on the sidebar to the right. You can discern an open puzzle by the green square with a white lock on it.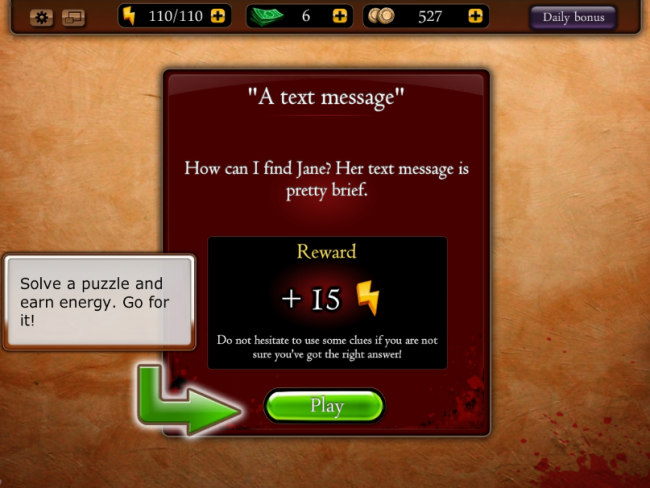 Click on the green square icon to open up the puzzle. Puzzles range from visual to text-based riddles that you need to put your brain to work in order to solve. They will vary in difficulty, and there is no set strategy for solving them, so you'll need to rely on your problem-solving skills to proceed. If you find yourself stumped, however, you can always purchase a clue with coins to point you in the right direction. There are three tiers of clues, each with a price tag of gold coins to unlock them. These are only available on riddles that aren't jumbled up photo puzzles, etc. These types of puzzles must be completed and are an integral part of the game.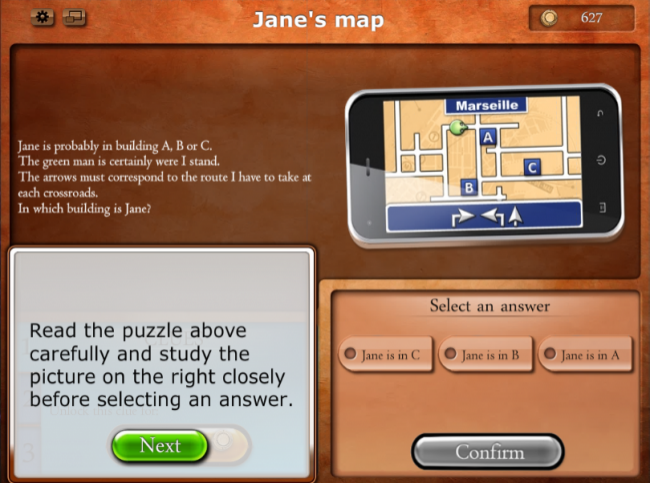 Dialogue Segments - There will be dialogue segments in between hidden object scenes and puzzles. Just click through to read them at your own pace as the story unfolds.
Game Resources
Energy - Energy is used to complete hidden object levels. Once depleted, you can either wait for some to regenerate or reach out to friends to send you more so that you can advance. It is an essential part of the game, so make sure you are stocked up. In case you require extra energy and don't want to wait, you can purchase cash with real-world money, which can then be used to buy more energy.
Use of Cash - Cash is received with real-world currency and can be used to speed up wait times and purchase additional in-game items.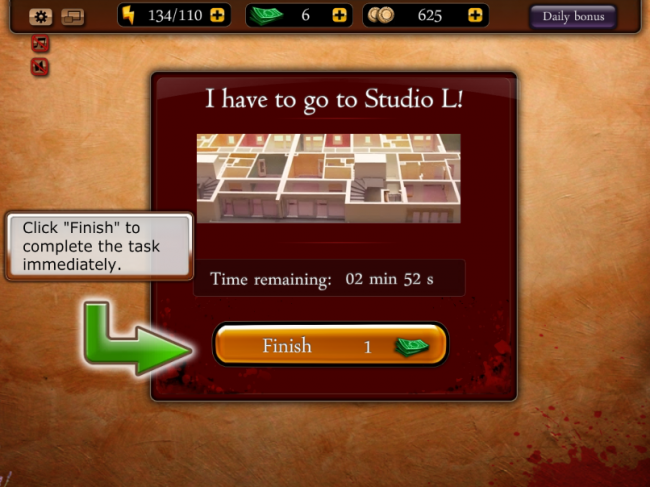 Use of Coins - Coins are used to purchase magnifying glasses and clues. If you find yourself running short, you can purchase more with real-world cash. You can also earn coins by completing scenes.
Use of Stars - Stars are used to unlock new puzzles and additional stages. Continue to outdo yourself in-game in order to rack up stars and progress further.
Tips and Tricks of the Game
As and when you complete a hidden object scene, just go ahead and replay it a number of times while the item types and locations are fresh in your mind. You will require to revisit them anyway, so you may as well go ahead and complete the stages to rack up stars so you can get them quicker.
You should memorize the names and looks of items you have found before. The game often has an interesting way of naming them and when you go back to improve your score, you will have a leg up on the timer that begins when you start up the level.
This Website is not affiliated With Murder in Provence. Trademarks are the property of their respective owners. Game Content and Materials Copyright Murder in Provence. All right reserved.