Dated: 7:54am on Monday 10th June 2019
Strategy Guide Containing Lists Of Gameplay Tips, Tricks, Hints, Special Pegs, Combos, Bonus Mode.
Game Features
Papa Pear Saga combines fruit-shooting fun with pinball's gameplay mechanics. In this game, there are several number of challenging levels to keep you engaged for long hours. Instead of bubbles, you will be popping acorns, carrots, and an assortment of vegetables and fruits. It provides many other objectives, viz. lighting up animated buckets by shooting pear-shaped balls into them, pushing colorful fruits into buckets, and scoring X number of points.
The game is very simple to play and has a simple interface designed for casual gamers. But some levels are quite challenging. For better understanding these levels, you need to replay the same time and again. You should go through these Papa Pear Saga tips in case there is any difficulty you face in completing a level, or if you want to complete all objectives with extra pears in hand.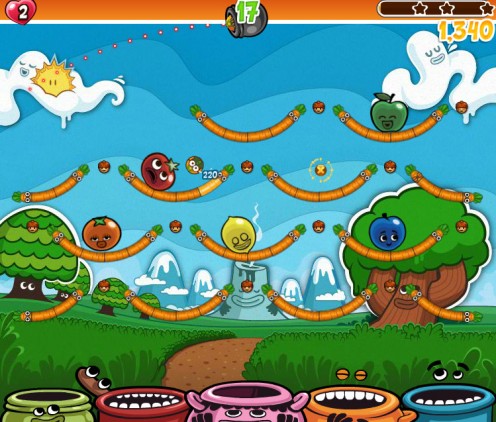 Read the Gameplay Hints
Look at the top of the screen, here you will find a pear shooter. Move the mouse cursor to aim and shoot pear-shaped balls at fruits and vegetables to remove them. Score points while you destroy pegs.
There are more than one level relating to Each level. Game objectives range from removing acorns, radishes, carrots, and other fruits and vegetables to scoring points and lighting up buckets by shooting pears into them. Some levels also ask you to push large fruits into those buckets and remove X number of vegetables or fruits.
For achieving your objectives. the game provides boosters (special pegs) at regular intervals. These special pegs can be purchased with Facebook credits. You will also find them strategically placed between common pegs in almost all levels.
When you fail to complete all or any one of the objectives, you lose a life. Lives refill over time and it may take 10-15 minutes to get a new life at no cost. You can request additional lives from your Facebook friends. Make sure you add as many friends as you can, to get more lives.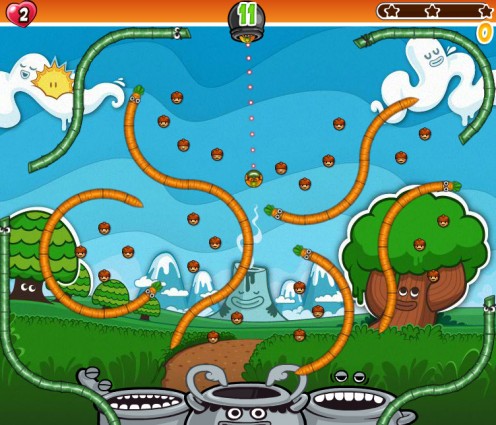 Details of Tips and Tricks
In levels where you will have to score "X" number of points and light up all five buckets, try to complete the first objective first. Aim and shoot at a group of pegs to get more points. You don't need to worry immediately about lighting up a bucket, as all the pears will end up inside one or more of the buckets. Once you meet the score objective, light up the remaining buckets by aiming directly at them.
You can shoot multiple pears (up to three pears) into buckets if you want to destroy pegs quickly and score more points.
When lighting up buckets, clear the corner ones first, then aim at the middle bucket. You can easily shoot pears at buckets beside the middle one.
Destroy fruits and vegetables (pegs) of the same type to earn a special multiplier peg. Multiplier pegs double your points for each bounce. For instance: A special multiplier peg will appear once you remove all acorns in the game board.
Bouncing pears off objects, fruits, and vegetables earns you additional points. This gameplay concept is very similar to Pinball games you've played on your computer. The more bounces, the more points and stars you will earn. Points fill up the star meter located at the top right corner of the screen. A full star meter earns you three stars.
Kinds of Special Pegs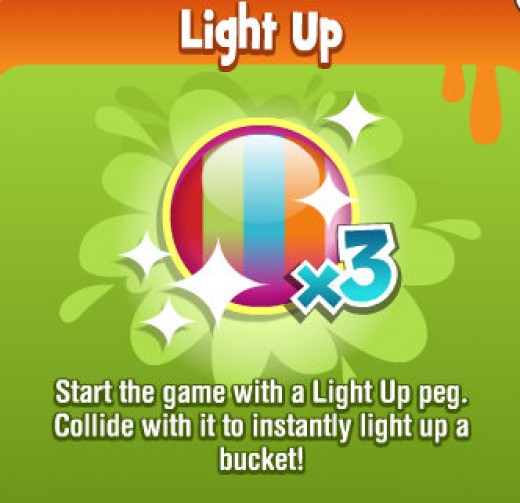 How to Make the Most of Special Pegs
There are Boosters which are said to be special pegs that bestow special powers upon pears. A pear bouncing off booster pegs gets more powerful, and helps you remove common pegs as well as score bonus points.
Boosters appear on a game board when certain combos are triggered. You can also get them in exchange for gold bars, which can be purchased with real money. Follow the guide below if you don't want to spend cold cash on boosters. You can also follow these tips below to make the most of these boosters in Papa Pear Saga:
Papa Grande Peg: Colliding with a Papa Grande peg will make your pear bigger. A big pear can destroy more pegs than a normal pear (though it doesn't bounce as much as a normal pear).
Papa Fire Peg: If your pear hits this special peg, it turns into a fireball, burning and destroying common pegs quickly. A fiery pear can destroy more fruits and vegetables than a normal pear.
Split Papa Peg: Colliding with this special peg will create a copy of your pear. You will have two pears destroying pegs and earning more points for you.
Light up Peg: If your pear hits the rainbow-colored Light Up peg, a dull, animated bucket will light up immediately.
Multiplier Peg: When you remove all fruits and vegetables of the same type, you earn a special multiplier peg.
How to Create Special Pegs: Combos
Special pegs can be purchased for gold bars, but who wants to spend cold cash when one can get them for free? You just need to fulfill certain conditions, or combos as players call them. Following are the tips to create special pegs or boosters:
In case you intend to create Papa Grande, you just have to make sure your pear removes fifty objects on the game board.
In case you intend to make Fire Papa, make your peg bounce off a bucket's edge and then bounce off the wall.
To make a Split Papa, i.e. a clone of your papa peg, you will need to bounce your original peg off any of the buckets in the game board at least five times.
The Rainbow Special Peg or Light Up Booster can be created by hitting your pears off a lit-up bucket seven times. But you first need to unlock that peg at the fifteenth level.
To create a special Multiplier peg, all you need to do is destroy all fruits or veggies of the same variety (for example, all the carrots).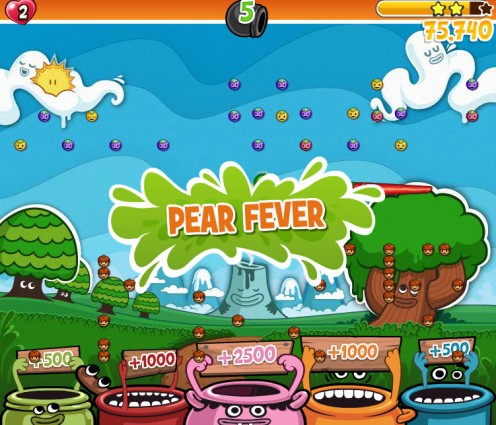 Pear Fever Bonus Mode
Tips and Tricks
Shoot directly into a bucket to light it up and earn 1000 points. To earn 500 points, make sure your pear hits the ceiling after bouncing off an object in the game board.
Completing objectives will trigger a "Pear Fever" bonus mode. In this mode, the remaining pears will be released from the shooter pot. This will help you score more points and earn stars.
There are some levels, where you are asked to clear X number of carrots and score X points, make sure you remove half of the carrots, and earn at least 75 percent of the total score requirement, before you start destroying the remaining carrots.
There are some levels where buckets will be covered with corks, lids, and other objects. You will need to remove those by bouncing your pear off them multiple times. Once the lid or cork is removed, you can easily push the pear into the empty bucket.
This Website is not affiliated with Papa Pear Saga. trademarks are the property of their respective owners. Game content and materials copyright Papa Pear Saga. all right reserved.