Dated: 7:57am on Monday 10th June 2019
Complete Strategy Guide Having Important Tips, Tricks, Hints To Complete Pepper Panic Saga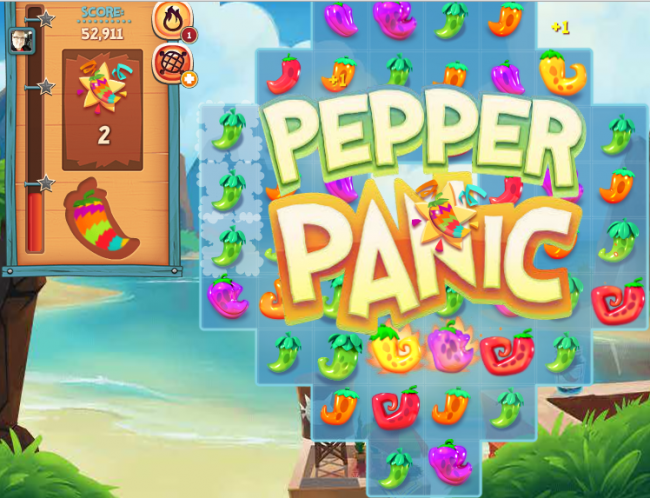 Basics Of Game
Know How to Play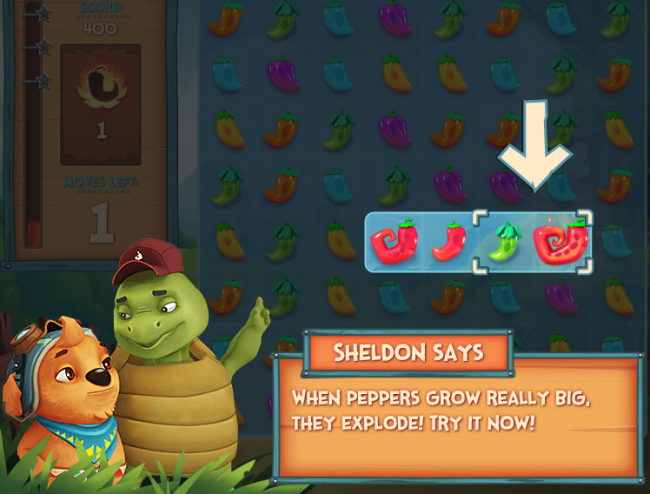 Objective of the Game : Pepper Panic Saga stars Pepper, a puppy who prefers farming and eating peppers instead of digging up the traditional bones. Pepper goes on a cross-country journey to grow the finest peppers he can manage, though his journey is occasionally impeded by an evil cat named Mr. Claws. Clearing levels in Pepper Panic Saga means meeting different goals, each of which are defined at the start of a stage.
Function of Map Screen : In the game, you will see Map Screen. The map screen outlines Pepper's journey. It also acts as a level selector. You should click on a level to play it. You can replay levels you have already cleared, but if you fail, you still lose a life.
Turning ON/OFF Music / Sound Effects : In the game, you can turn music and sound effects on and off from the map screen.
Use of Gold Bars : You start Pepper Panic Saga with 50 gold bars. Gold bars are used to buy boosters (power-ups), which can help you get through a tough stage. Gold bars also buy extra moves in any stage, and will let you keep on playing even if failure seems imminent.
Grow Peppers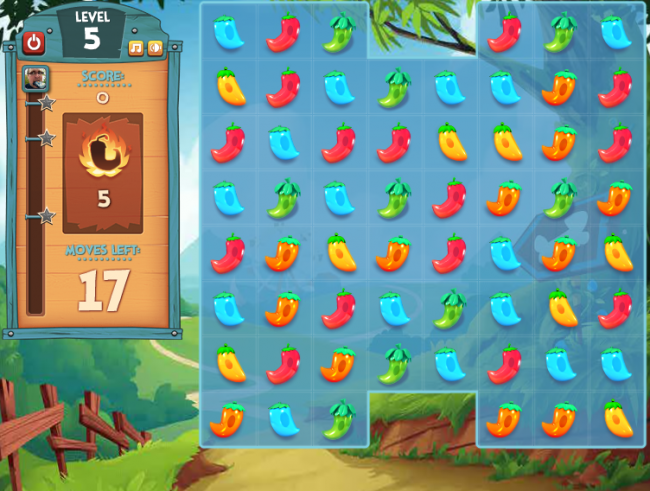 Match and Grow : Match three or more peppers of the same color to make them grow. When you match same-colored peppers of any size, they grow bigger each time. When a pepper sizzles, it will explode the next time it's matched up.
Blow Up : A sizzling pepper blows up the next time it's matched with three or more same-colored peppers of any size. When a pepper explodes, it sends out shockwaves that enlarges peppers that are the same color.
Pepper Panic! : If ten or more sizzling peppers blow up in a chain reaction, it triggers a Pepper Panic. Pepper Panics net big points, and are sometimes necessary to clear certain stages.
Know conditions for Success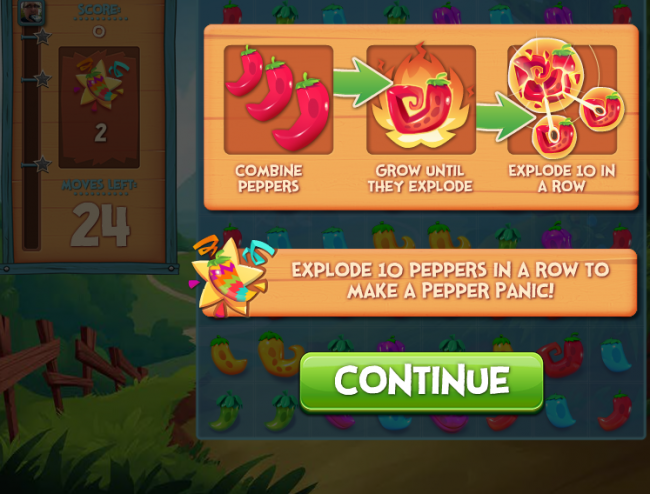 A Crop of Requirements : Each stage of Pepper Panic Sagarequires you to perform one or more tasks in order to clear the level and move on. The conditions for victory are listed at the start of each stage, so pay attention to them.
Earning of Stars : Most stages need you to earn at least one star. Stars are awarded when you score a certain number of points.
Achieving Pepper Panic : In the game, there may be some occasions when you need to achieve one or more Pepper Panics before you are allowed to move on.
Collect Peppers : Collecting peppers needs you to match up three or more specific peppers until you have gathered the requested amount.
Blow Up Peppers : Many levels require you to grow and blow up peppers of select colors, though there are some stages that let you blow up peppers of any color.
Failure and Getting Back on the Road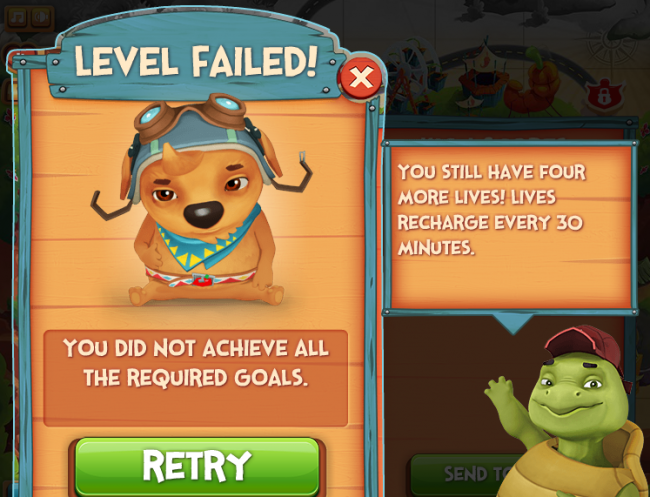 Limited Moves : Clearing a level is not an easy job, since you only have a certain amount of moves to meet all a stage's clearance requirements. Sometimes you are granted a very small number of moves. You can send moves to friends who are also playing the game, and they can send moves to you.
Buy More Moves : If your allotted number of moves begins to really tick down, you are offered the chance to buy five more moves with gold bars.
Last Chance : When all your moves are spent, you are offered the chance to buy more with gold bars. It is not over till the fat puppy howls.
Lives : When you fail to meet a level's clearance requirements and you opt not to spend gold bars, you lose a life. Lives are slowly refilled over time.
Know About Mr. Claws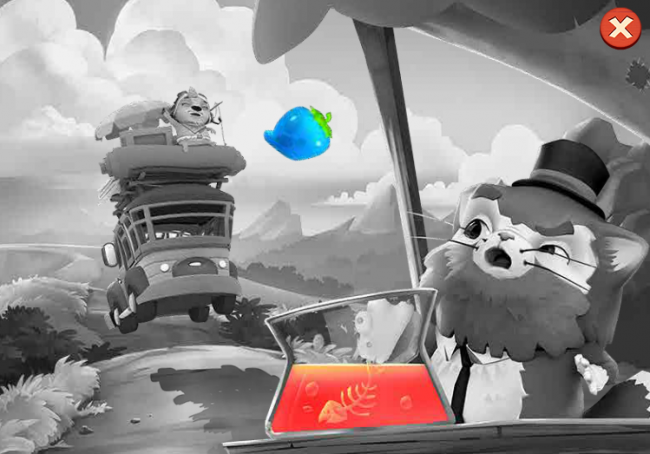 Bad Kitty : Mr. Claws is out to steal Pepper's peppers. He moves his mechanical hand-contraption from row to row on the game board. Whenever you make a move, he nabs all the grown and partially-grown peppers in a highlighted row.
Stun Him : A Pepper Panic will stun Mr. Claws for a couple of turns.
Boosters and In-App Purchases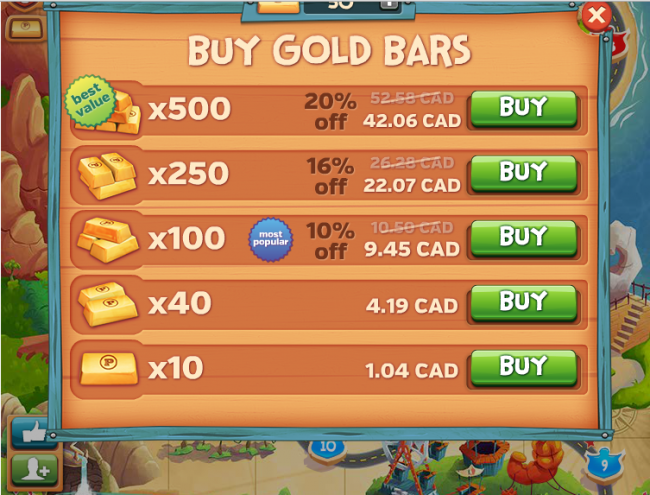 Need an Edge : It can be difficult to clear certain stages of Pepper Panic Saga within the allotted number of moves. Boosts can help you out by instantly growing peppers of a certain color, or by protecting peppers from Mr. Claws. Different boosters are gradually introduced as you play. You also get some freebies.
Need of Gold Bars : Gold bars are needed to purchase boosters at the start of each stage. You start the game with 50 gold bars, and you can buy more with real-world cash through an in-app purchase. Access the online store through the gold bar icon on the map screen.
Important Tips & Tricks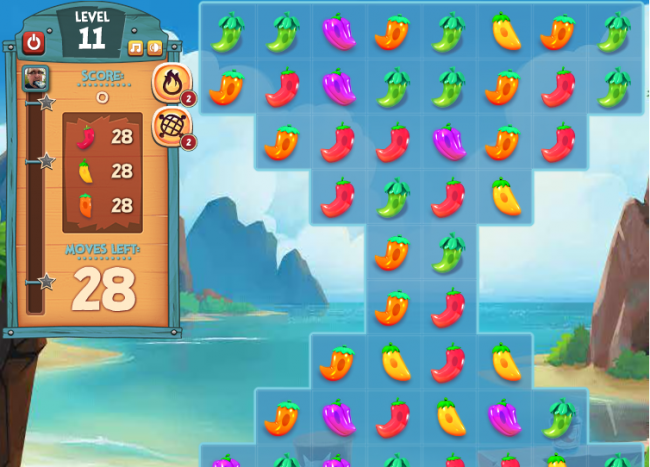 Need a Pepper Panic? Concentrate on a Couple of Colors : Some levels of Pepper Panic Saga require you to set off a number of Pepper Panics. This can be quite difficult if you have a small number of moves. Focus on growing a couple of colors. That way, when a pepper explodes, it will instantly plump up its brethren and maybe trigger a Pepper Panic.
Don't Lunge for the Suggested Match : Like most match-three games, Pepper Panic Saga will suggest a match if you take too long to make a move. These suggestions usually do not help you achieve long term goals, like growing peppers in anticipation of Pepper Panic. Before you move, take a second to make sure the outcome will be as fruitful as possible.
Match More than Three When Possible : Matching up three peppers will result in a growth, but make sure to match-four or match-five whenever possible. Matching up four peppers will clear a row or column (it mainly depends upon whether your match was done vertically or horizontally). Matching five peppers causes peppers of the same color to grow up by one stage. And matching an L or cross-shape will clear the row and the column.
This Website is not affiliated with Pepper Panic Saga. trademarks are the property of their respective owners. Game content and materials copyright Pepper Panic Saga. all right reserved.