Dated: 3:04am on Thursday 9th July 2015
Strategy Guide About Roads, Buildings, Electric Power, Dollars, Friends, Piasters, Experience Points And More.
There are fishermen in the game who used to live in island. The evidence of their presence is the old neglected pier. Have it repaired is the first step in starting this game. To repair, you should click the pier and selection buttons will appear, then click the repair button.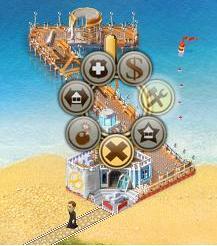 Putting Road
After completion of repair, your island is now ready to accept ships and tourists. You have your first cruise liner and offering them comfort is a nice thing to do. But, you need to build roads first so your tourists can roam around your island. To put roads, click the "Build a Road" button located at the left side of the game screen. You should click in the ground you want to have path and drag it according to your desire. Building road is always for free!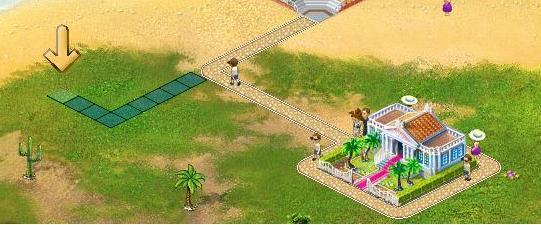 Buildings
The best method to accommodate your tourists in your island is by building hotels, services, public facilities and entertainment. In this way, you will earn money which is also your main goal. Buildings and services are not readily available to purchase. You need to level up first so you can unlock more. The first building you can set up is the hotel. To do this, click the "Build" button at the left side of the game screen. Click the hotel and click it in the ground. Once your okay with the location of your hotel, click the check button and if not, click the ex button.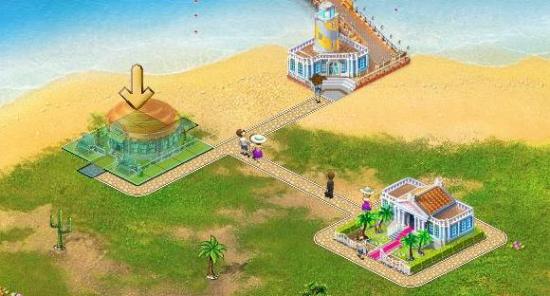 Besides buildings, you can also offer services like cottages, entertainment like BBQ stand and public facilities like generators. You can also upgrade each facilities and buildings so you can have more workers and profit. Luxuries are available for piastres and the rest are available to purchase using dollars or piastres. You can also add lands, decorations and swimming zone in your island. All of these are in the Build button.
Electric Power Supply
When you have built your own first hotel, you are now ready to accommodate your first guests. But before doing anything, you should have electric power to supply your buildings. To do this, click the Shop button. Click the Power Supply from the selection and click it in the location you want. Click the check button after. Now that your paradise is almost complete, you can now accommodate tourists and guests. You can also build other buildings that you want and put road as many as you can for no cost.

Demolish Something
In case you have made mistakes in your island, either you do not like how you put up your buildings or paths, don't worry because you can always demolish them by using the "Demolish Something" button. Click the Demolish Something button and click it on the building or path you want to demolish.
Dollars Collection
Each building has corresponding time of collecting dollars. You can see the time of collecting upon buying your building or services. To know when your building already accumulated the exact profit, you will see a dollar sign on their top. To collect, just click the buildings and your earning will automatically add up as well as your experience point.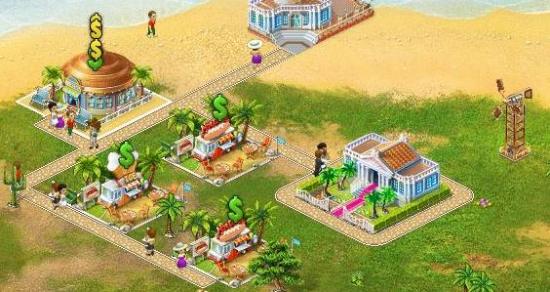 Friends Addition
Life in the paradise would be boring without neighbors. There is a "Friends Island" button. You can add friends by clicking the "Friends Island" button and select your Facebook friends that you want to add.

Other Buttons
Resort World got tons of buttons you can use while playing. In the upper right side of the game screen you will see the buttons for your game play. There is an option of change the size of screen. You can always full size the game to fit your screen, turn on/off the music, turn on/off the sound effect, lessen the game quality, take pictures of your island and hide your buildings that is useful when you are designing your island.

Look at the bottom right side of the game screen. Here are the buttons for additional services, gifts, inbox and friends islands. Additional services button offers you services like automatic collecting your gold even if you are not visiting island, automatic repairing of your building and starting the game all over again. These services are available for piastres.

Benefit of Dollars, Piastres & Experience Points
You can use Dollars to purchase buildings and decorations. You can have this upon collecting the profit of your buildings. This is the element in Resort World.
Piastres is another element in Resort World that is often use to purchase luxuries. You can have this upon purchasing it online or by leveling up.
There are experience points in the game that you require to acquire to level up. This you can get each time you build buildings and each time you collect your earnings.
This Website is not affiliated With Resort World. Trademarks are the property of their respective owners. Game Content and Materials Copyright Resort World. All right reserved.