Dated: 3:05am on Thursday 9th July 2015
Strategy Guide About Gold, Crystals, Experience, Health, Resources, Shop, Map, Equipment, Orbs, Fury, Enchanting, Quests, Army, Kingdom, Fighting Monsters And More.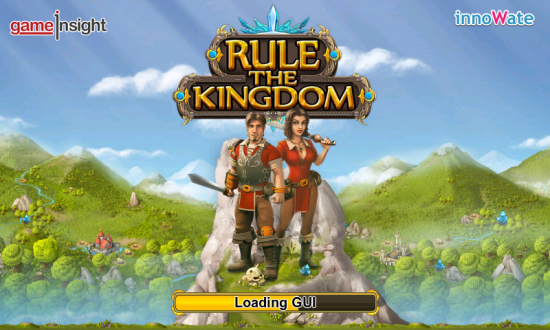 Important Items and their Details
Use of Gold – It is the element of Rule the Kingdom. Gold is utilized to grow your kingdom, purchase items to aid you in battle, and to begin raids. Gold is found by collecting taxes, winning battles, and completing quests.
Use of Crystals - Crystals can be said to be an important element in Rule the Kingdom. These can be used to purchase important items, skip portions of quests, complete buildings early, and unlock extra helpers in the game. Crystals can be purchased using cash. You can also earn one crystal each time you level up.
Earning by Experience – In the game, every action you perform will earn you experience. Once you have earned sufficient experience you'll level up and unlock new items and quests.
Function of Health - Health acts like energy, but can only decrease in battle. You can use protection orbs to keep your health intact. In case your army is standing they will take damage on your behalf, allowing you to battle more enemies without as much risk to your health. If you have run out of health, however, you will require to wait for it to regenerate or use a health restoring item.
Need of Resources - Resources are essential for completing and improving buildings. Resources come from chopping down tress, mining rocks, and harvesting crops.
Purpose of Build Menu - The build menu is where you will be able to buy new buildings for your kingdom. This is where you'll find houses, farming items, businesses, decorations, and barracks and training facilities for your army.
Purpose of Shop – Here you can buy items to aid you in battles. Here you can purchase weapons and armor, orbs and potions, and other items to give you an edge against enemies.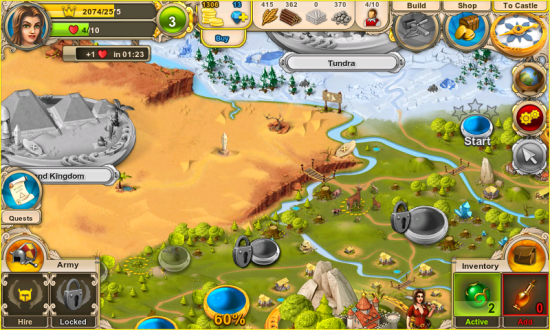 Use of Map - Your map allows you to explore the lands surrounding your kingdom. As you first start the game, many locations will be locked. As you level up, you will unlock new locations and new quests to complete within them.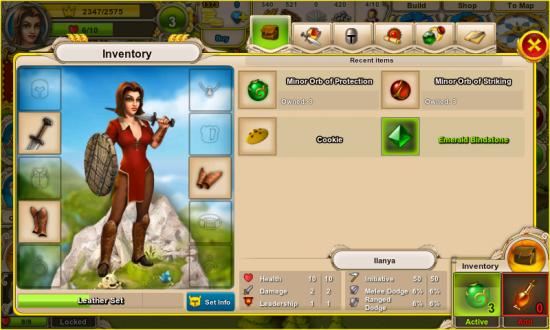 Purpose of Equipment - Equipment allows you to better prepare your hero for battles. The better equipment they have the better they will be able to withstand damage and the more damage they will be able to deal.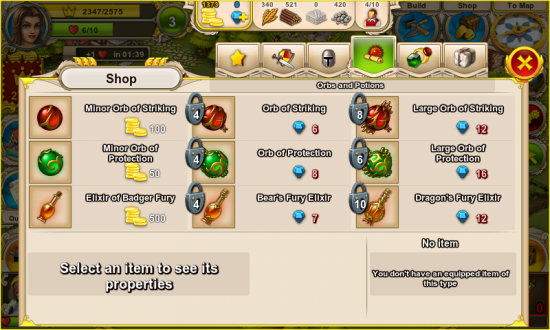 Use of Orbs - Orbs can give you an edge in battle. Protection orbs will absorb damage, and orbs of striking will up the damage of your warriors.
Purchase of Elixirs - Many elixirs are their which you can purchase in the game. Each elixir will increase your fury by a specified amount.
Increasing Fury - If fury bar is increased, it will unlock powerful attacks you can use. The more fury you have, the stronger the attacks you can launch.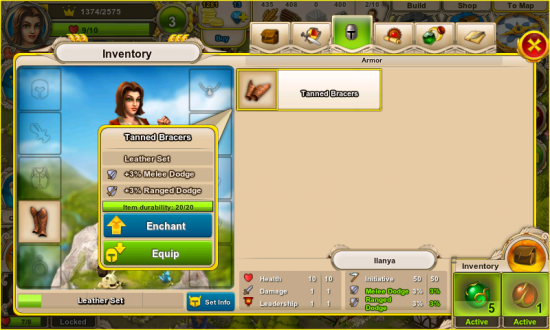 Enchanting - Certain items (such as weapons) can be enchanted. You will need to find three different types of stones in your travels to complete an enchantment. Enchanting an item will give it bonuses and increase its effectiveness.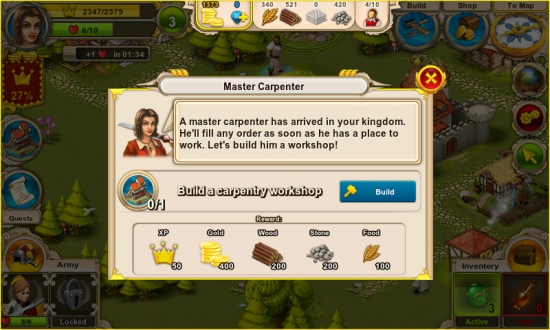 Purpose of Quests - You will be provided numerous quests to complete during your time playing Rule the Kingdom. Some quests involve saving villages and have entire storylines attached to them. Other quests are far simpler, and require you to improve buildings and order certain resources and/or items for example. Completing quests will earn you experience and gold.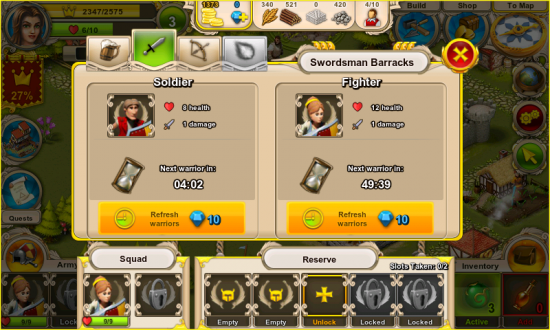 Use of Army - In the battle, Army play an important role. Your army will fight by your side in battle. When a member of your army falls, you will need to hire a new warrior or continue on alone. As you level up you will unlock new fighters with abilities more varied and powerful.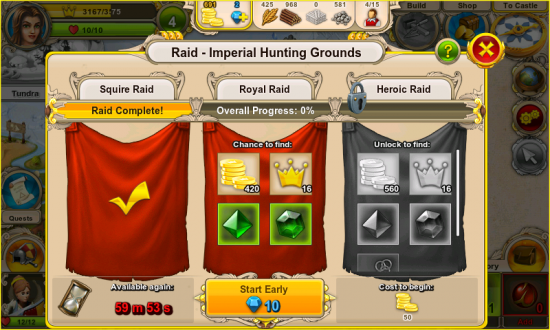 What is Raid - A raid is an attack on a specific location, complete with a time limit in which to complete the objective. The more successful the raid, the more stars you will receive. For this, stars earn you better rewards and more enticing spoils of war. Be warned though, the more stars you have, the more difficult the monsters will be in every new raid. With great power, comes beefy enemies!
Build your own Kingdom
As you start the game, your kingdom will already have a couple of buildings in it. However, if you want a truly successful empire you will need to add your own flavor to it.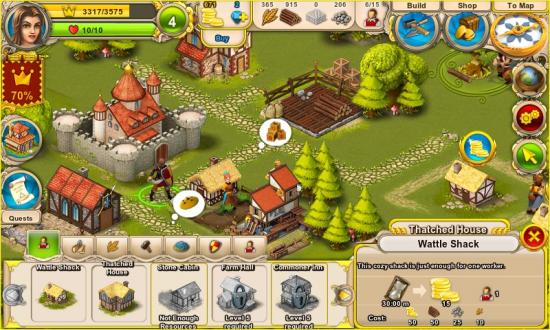 For beginning, you should add more people to your kingdom. Get things rolling by tapping on the build button at the top of your screen.
The build menu will open at the bottom of your screen. From here, select the first icon (of a person), then tap on the "wattle shack" to build one.
When you have selected the shack, you can view its stats on the right side of your screen (this is true of most structures). Here, you can see how much gold it will earn, how long it will take to earn it, by how much it will increase your population, and take stock the resources and gold required to build it.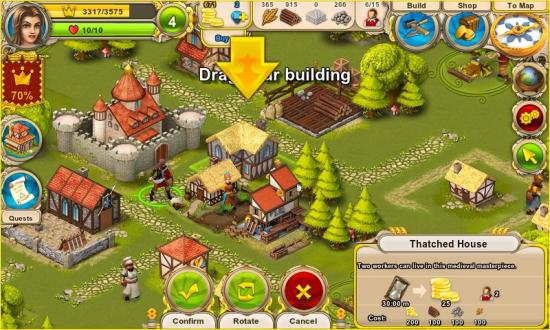 Drag the shack to where you wish to build it. If you change your mind, you can always tap the "x" button to cancel your purchase. In case you intend to finalize your purchase, however, tap the check mark. Experiment to see where you're happiest with the placement of buildings.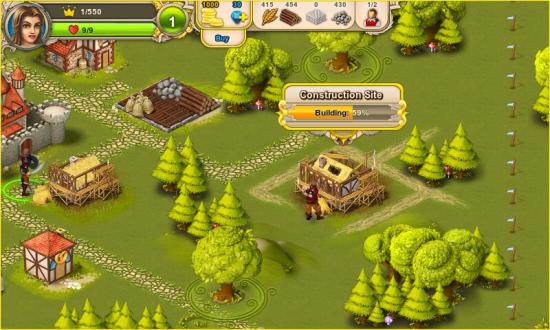 In case a builder is available, they will immediately begin working on the shack. If all your builders are occupied with other projects, you will require to wait until one is available.
As a rule, it will take time for you shack to be completed, so you may wish to return to it later.
When your wattle shack is complete, though, it will earn 15 gold every 30 minutes.
Do not Forget that you will need to collect the gold for the shack first to begin earning more.
When it's time to collect gold, there will be an icon representing the element above the building. Tap on the building to collect your gold.
To continue building, you will require to gather some resources.
Important Tip - You should look for large trees and piles of rocks and tap on them to send workers off to mine them for your collection.
Resources can be gathered from your workers whenever they have harvested at least one, but once they have harvested a large pile of resources they will stop working until you have relieved them of their load. Talk about lazy.
To gather resources, just tap on the pile of wood or rocks to have them sent to your stockpile.
Once you have chopped down a tree you will need to wait for a new one to grow in its place.
You will also require to manage your farm to harvest food resources.
There will already be a farm in your kingdom when you begin the game. Tap on it to plant crops.
Only one plot will be open to you at this point. Tap on it to select the crop to plant.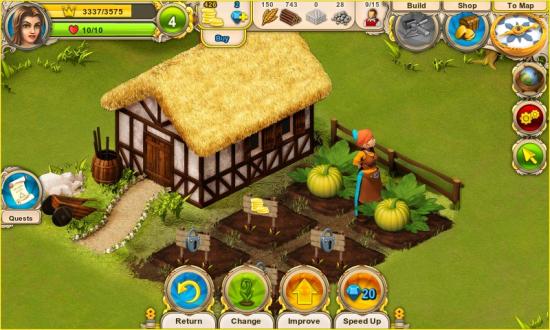 When planted, you will need to wait for it to grow. Once grown, return to your farm and tap on your crop to harvest it.
Your farmer will automatically clear the land and plant the same item again.
In case you intend to change the crops you are growing, tap on the plot of land and switch the crop using the menu.
Resources can also be collected from your businesses. Bakeries will bring in baked goods, while your carpenter can build things like wooden blocks and chairs.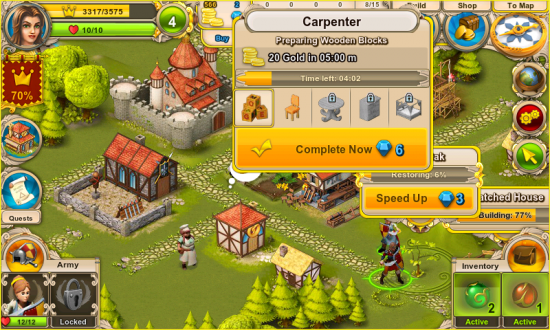 For selecting as to what a business will provide, tap on the building and place an order for the item you wish to have. You will need to wait a certain amount of time before it's ready to be collected.
Know About Questing and Fighting Monsters
Several quests that you can complete in the game come with a complete storyline. The quests are presented in phases and each phase unlocks a new portion of the story.
To see how much of a storyline you have completed, you can go to your map and look at the percentage complete for each location that you have unlocked.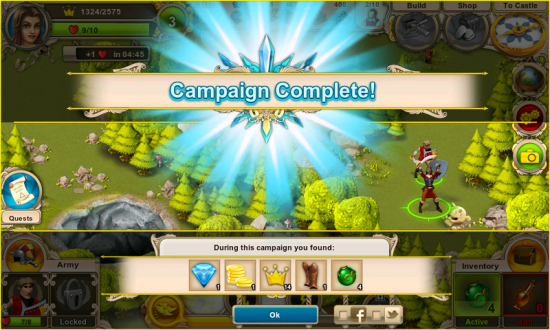 If a storyline is completed, it will complete the campaign and earn you additional experience, gold, and possibly treasures.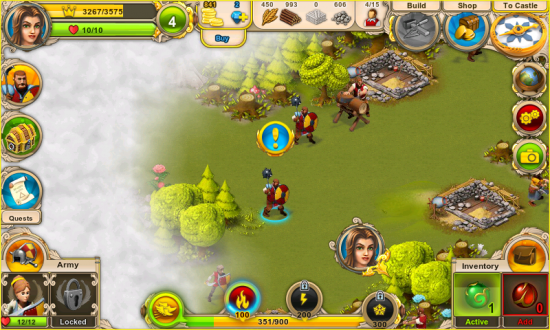 Be on the lookout for people with exclamation points above their heads, as they will provide you with new quests to complete!
Many of these quests involve fighting the various monsters scattered across the lands. You know, all in a day's work.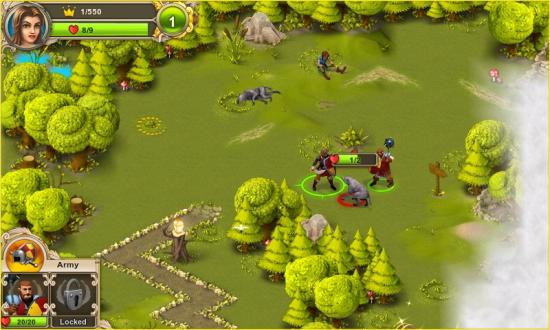 To battle a monster, just walk up to it (or wait until it walks up to you) and a battle will begin.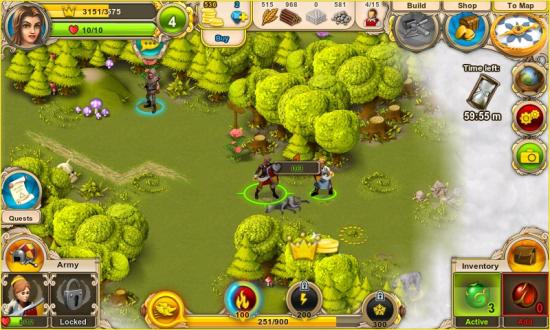 Your hero and warriors will begin fighting the monster.
In case a warrior falls in battle, you can tap the army button located at the bottom left of your screen.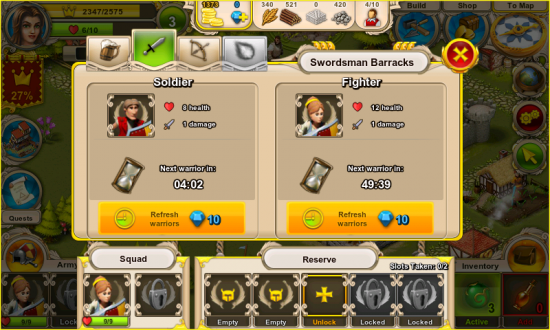 In case of resources available with you, you can hire a new warrior on the spot. If you do not have enough resources (or you don't wish to hire anyone at this time), you can continue fighting alone.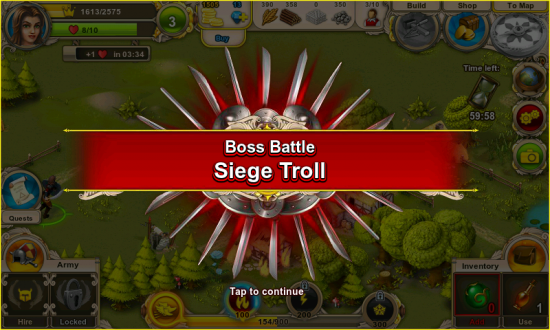 You will encounter boss battles. These battles will have multiple monsters to fight, but you will still fight them one at a time.
Boss battles are when you most likely want to make use of your fury bar.
Your fury bar fills up as you battle monsters. You can also fill it faster using elixirs.
Early on, you will only have access to one or two powers, but you will unlock additional ones as you level up.
For using a fury power, tap on the power you wish to use and then on the monster you wish to use it on.
Using a fury power will damage a monster more than a normal attack would.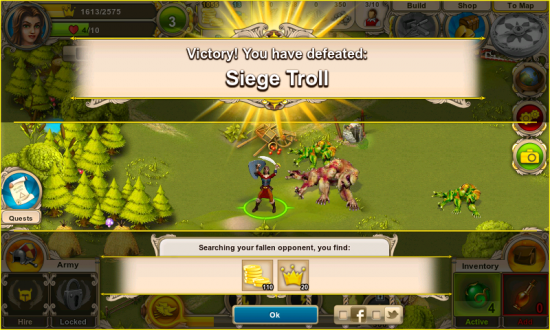 Earning of Additional Gold : When you defeat a boss, you will earn additional gold and experience (and may I remind you, possibly treasure!).
Your hero cannot die, but be warned: if you run out of health points, you'll need to return to your kingdom and wait for your health to replenish (or use crystals to replenish your health more quickly).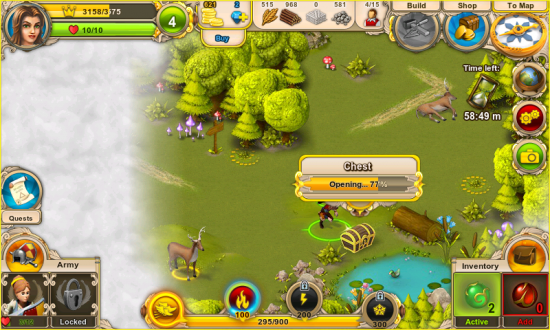 You should also lookout for treasure chests and ruins while you are adventuring. They contain gold, orbs, enchantment items, and equipment that can aid you on your travels.
Some of the quests you are given will involve rebuilding buildings, clearing out resources, and caving in monster lairs.
These quests must be completed by your friendly helper goblins.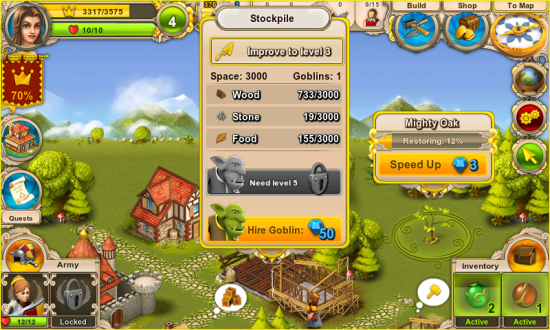 This Website is not affiliated With Rule the Kingdom. Trademarks are the property of their respective owners. Game Content and Materials Copyright Rule the Kingdom. All right reserved.