Dated: 7:54am on Monday 10th June 2019
Strategy Guide About Silver Coins, Gold Bars, XP, Energy, Neighbors, Gifts, Bonuses, Scoring, Water Items, Daily Bonus And More.
Know about Seaside Hideaway
This game is the creation of POW games. In this game, you have to revive a small, broken-down seaside village and convert it into a booming tourist attraction. There are many hidden object scenes which are required to be completed. Besides this, earning money and reinvesting it for building the town into a mega tourist attraction are the main tasks. This information guide for the game Seaside Hideaway is going to give you detailed information about tips, tricks, and hints on basic strategies which will help to play this popular game.
Begin your Game:
When you are prepared to play, you can click on the "Play Now" button at the top of this page.
Recommended Settings – Look at the top right side of the screen, here you will find the game settings. You can set the game to full screen (recommended), turn game music or sound effects on or off, or zoom in or out of the scene.
Start out the game with an introduction to "Lilith" the mayor of Seaside Hideaway. This will teach you how to play the game and you can take help.
In the start, you will be having 3,000 silver coins and seven gold bars.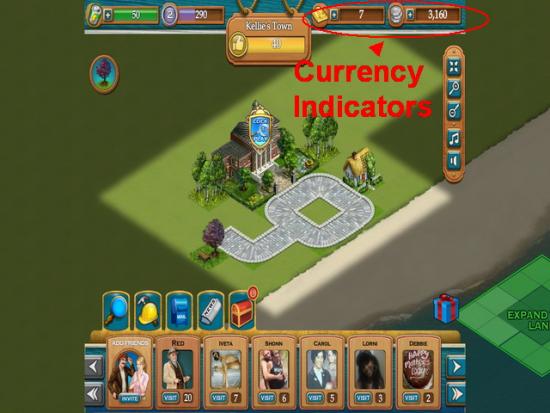 Game Element
Types of elements are there in the game.
Silver coins – It is standard game element which you earn from completing various hidden object scenes and collecting coins from various attractions.
Gold Bars – It is the secondary element used to purchase high-end items with higher levels of appeal as well as to open up special hidden object scenes.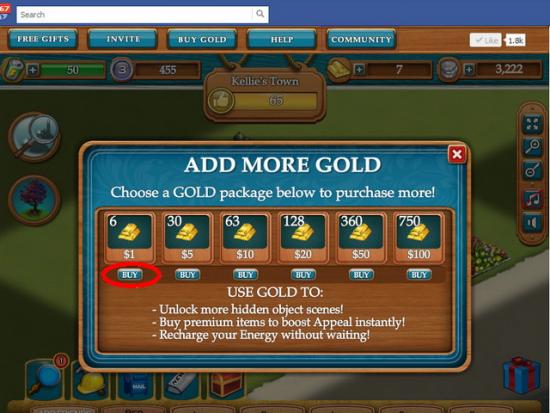 If you intend to purchase silver coins you will need to purchase them with gold.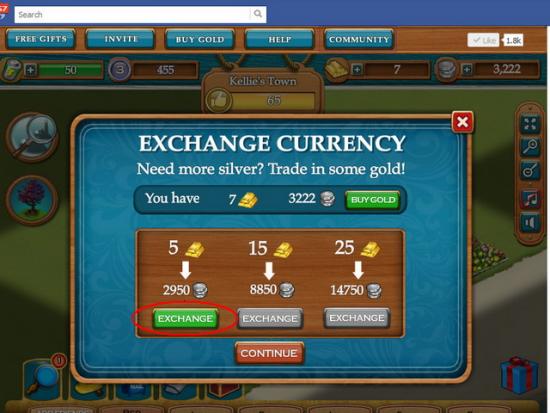 Purpose of Exchange Rate- The game has an exchange rate and based on the amount of gold you have on hand it will show you how many silver coins you can exchange for it
How to Earn Experience Points (XP)
Experience points (XP) are earned each time you place an item in your town, visit your neighbors, and collect rent and more.
XP are what you need to level up in the game.
Look at the top left next to your element and level indicator, you will see XP meter.
Why Energy Needed
Energy is needed to play hidden object scenes.
It will cost you ten energy points each time you play.
Energy meter is provided to you at the top left of the game screen which holds a maximum of fifty energy points at a time.
The function of energy meter is to regenerate on its own at a rate of one point every three minutes.
How to get more energy : If you run out of energy you have a few options.
Wait for Energy Regeneration : Energy will regenerate on its own over time. Come back later when meter has refilled.
Earning by visiting your Neighbors : You will earn two energy points for each neighbor you visit once every twenty-four hours.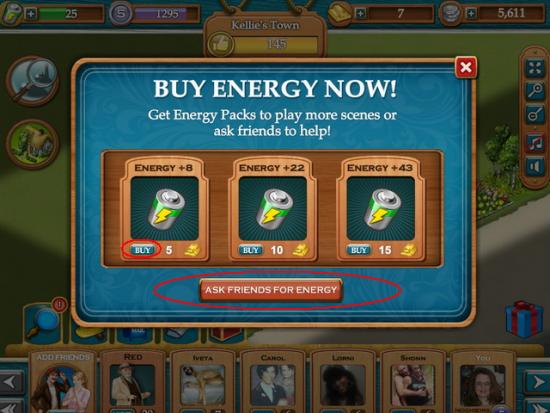 Purchase of Energy : Using gold you can purchase more energy. Click on the "+" sign to trigger the energy purchase menu then purchase the amount you wish to add.
Utilisation of Gifted energy : Go into your inventory and use any energy gifted to you that you have previously accepted. You can enter it on to your meter in increments of one or five by clicking on the button shown in your inventory at the very bottom. You can only use up to twenty energy points per twenty-four hour period.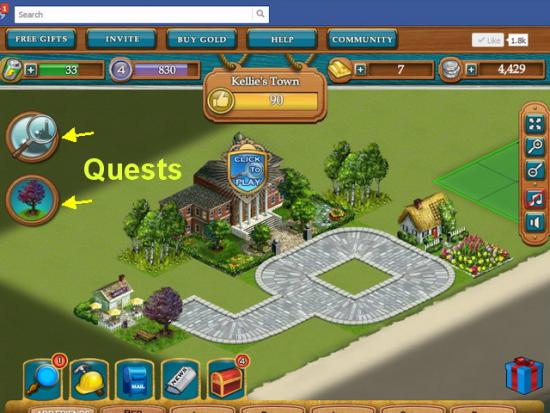 Purpose of Quests Icons : The quest icons are found at the upper left side of the game screen as two circles with images inside.
The top quest list has to do with hidden object quests and the second has to do with town building quests.
Click on one of these icons to see your current quests.
These quests will also guide your progress in the game.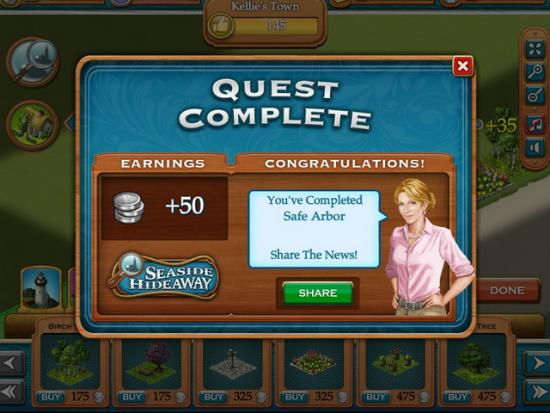 When you complete a quest you will be notified and will earn an XP and/or coin bonus for doing so.
As and when you complete a quest a new one will appear in its place immediately.
Tip to Note : Be sure to always look at your quests before you add any items to your town or play a new hidden object scene. If you play a new scene or add an item to your town then open a quest that requires you to add that item, you will have to add it again because it will not recognize your action until after the quest has been read
How to Play the Game
The game comprises of your completing hidden object scenes as fast as possible to earn the most money you can. This money can be utilized by you to reinvest into the town adding attractions and buildings that will pay you rent also contributing to your wealth.
Playing of Hidden Object Scenes
Each and every time you play a hidden object scene you will spend ten energy points.
Click on the town hall building in the center of your town to open the episode menu. Each episode consists of four scenes you must unlock and complete.
You will next choose which unlocked scene you want to play by clicking on them.
The more you play the more money and XP your will earn as well as scenes you will unlock.
You are timed and the more items you find in a row without using a hint the higher your score as the points are modified by bonus multipliers.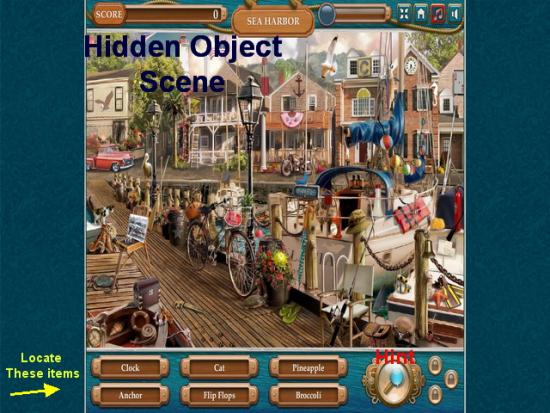 Once in the hidden object scene look for the items listed along the bottom of the screen in text. In future levels there may be silhouettes or find the differences scenes for you to complete as well.
Each and every time you find an item it will disappear from the list and another will appear until you find them all.
Types of Hints : If you get stuck and choose to use a hint click on the hint button at the bottom right and you can use one of three hint types. The first will simply show you where one item is and the other hints are available once you reach a certain level in the game.
Bonuses and Scoring : Bonuses are awarded for precision in your clicks, not using hints, and speed in which you find the items.
At the end of each hidden object session you will briefly see your score and the breakdown of your points.
Your best game is one where you are very fast and accurate and do not use any hints at all.
Scoreboard: Scoreboard is kept there and you will see how you place among your neighbors in the hidden object scenes.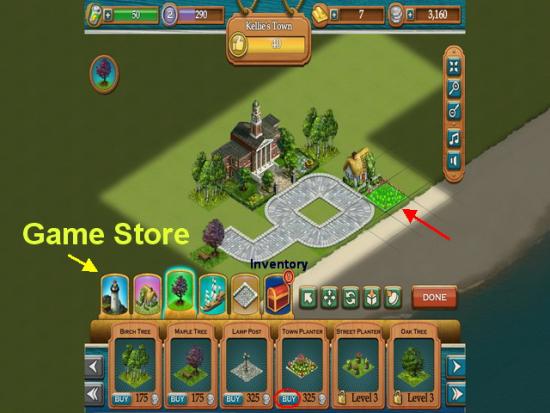 Purchase of items to place in your Town
As soon as you have some money you may start to purchase and place attractions decorations and landmark buildings in your town.
Look at the bottom left of the game screen and click on the "Build" tab to open up the game store.
You will see several tabs including, attractions, landmarks, decorations, and inventory.
Pick an item from one of these categories. Note that each item from store is either charged with silver or gold.
Each item also has a certain amount of appeal it adds to the overall town and this amount is shown to you before purchase.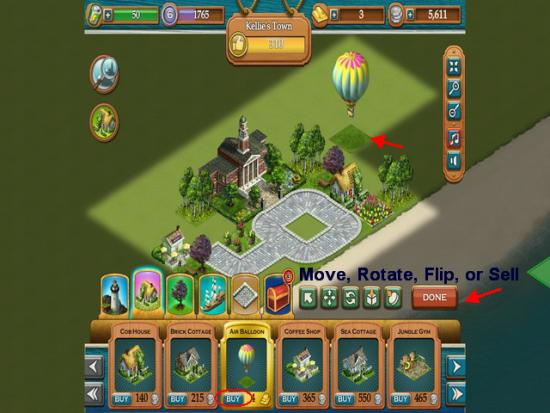 Placing items : The item will appear on the end of your cursor.
After finding a location, you intend to place the item click to lock it in.
Here, you will have to wait for the construction time to complete unless you wish to use gold to pay to have instant completion.
As soon as it completes the item will serve you as an item that contributes appeal to your town.
Moving, rotating, or selling items in your town – Click on a building or item then at the bottom right a menu will open up allowing you to rotate, move, store an item in inventory, or sell it. Use this menu to manipulate items in your town that are already placed in your town.
Only Sold items are sold back for much less than the original purchase price. Only sell items if you have absolutely no other means to get any fast or you are sure you do not want it.
IMPORTANT NOTE : If you take an item out of your town whether for inventory or to sell it then the amount of appeal it contributed will be deducted. Items are only good for appeal when they are physically installed on the land or water.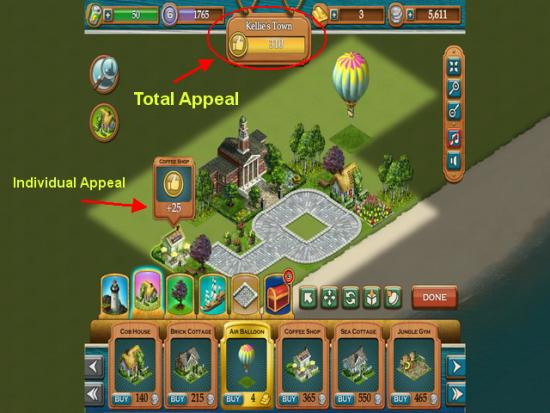 Purpose of Amount of Appeal : The amount of appeal your town has is shown in the top center of the screen.
Each time you add decorations or buildings to your town or use gifts that are sent to you the amount of your appeal increases.
Appeal also unlocks hidden object scenes and purchases landmarks to place in your town.
Click on the building at center of town or on the adventures button at the bottom left of the screen to open the hidden object menu.
Look at the bottom left, here you will see what landmark you will earn for completing a specific scene. This includes playing hidden object scenes until you earn all the anchors.
The main function of Landmarks is to boost your town with a lot of appeal points.
Important Note : Gold can be used to purchase items with high appeal and you can use it to unlock hidden object scenes instead of having to play them until they are unlocked.
Water Items
After reaching level eight, you will be able to place water items in your town.
Please note that these items can only be placed on or in water.
You will have to expand and expose the water in your town in order to place these items.
Look at near the bottom of the screen, here you will see beach area and ocean where you can place these items once you reach level eight.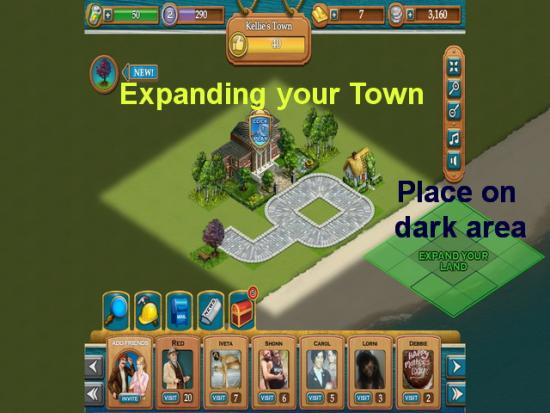 Expansion Feature of your Town
You will be given a very small amount of land when you begin the game and will find you want to expand fairly fast.
The expansion feature is currently tied to your cursor and you will see a 3 x 3 area can be expanded at any area you can highlight green on the board.
Land that is dark you do not have access to and when you expand you will lighten this area and you can build on it.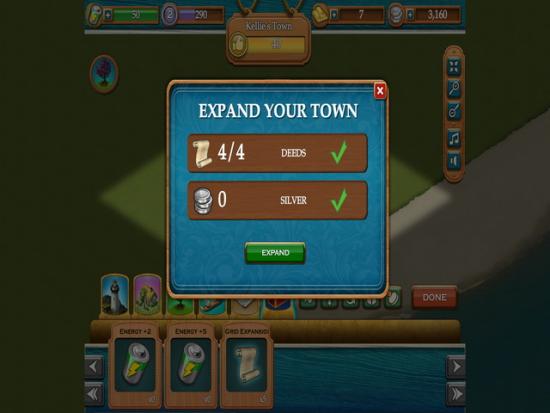 Place your cursor until you see the green "Expand your land" message appear then click on the area.
A message will appear and tell you that you need a certain number of deeds and silver to expand your land.
You will have to get these deeds from your neighbors so the more neighbors you have the easier this will be for you. Click on the "Ask Friends" button in the menu and send out requests.
As soon as you have the required number of deeds and silver click on the "Expand" button.
You also have the option to instantly expand your town for ten gold bars. This is also offered on the expansion menu. This takes away the requirement for deeds from your neighbors and will save a lot of time.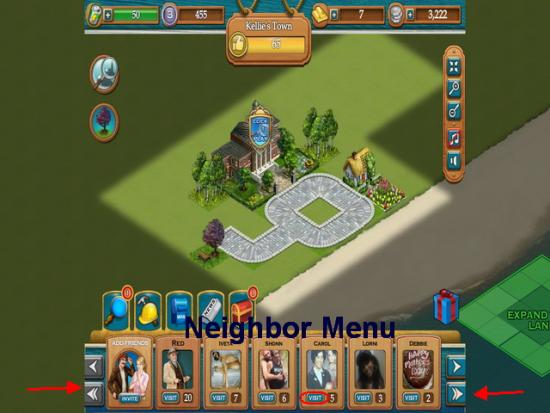 Purpose of Neighbors : Inviting and Visiting your Neighbors for increased profit
Neighbors are shown in order of level from highest to lowest.
Visit Button : Click on the "visit" button to visit a neighbor's town.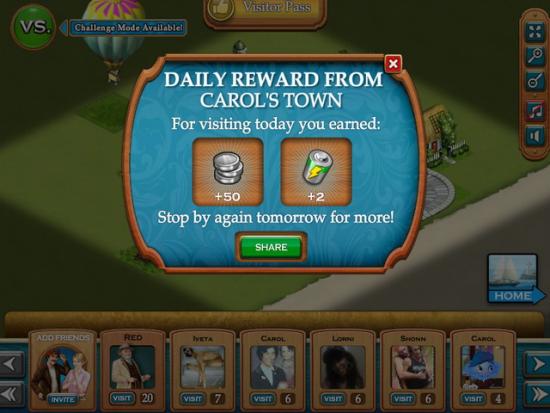 As soon as you are there you will automatically be rewarded with 50 silver coins and two power points.
Take a look at your neighbor's town to see how they have chosen to design it.
Wait 24 hours before you can collect from a neighbor again.
In the future there will likely be more interactive ways to visit your neighbors.
Please ensure to visit your neighbors daily, as this is the easiest way to earn free money and energy to help you advance in your game.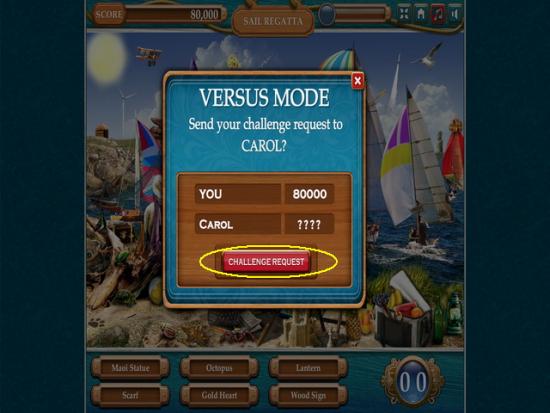 Purpose of Challenge Mode
Once in every 24 hours you can send a challenge to your neighbor.
Look at "VS" button at the top left of the game screen and Click it while in your neighbor's town.
Three energy points are required to be paid to challenge another player.
Here, you will be taken to a hidden object scene and there are unlimited items to find along the bottom of the screen.
You are to find as many items as you can in a sixty second time frame.
You will earn 10,000 points for every item you locate.
You complete your turn right away and the results and the challenge are sent to your neighbor next time they log into the game.
If they accept they too will pay three energy points and whoever has the highest score will win the money.
Higher payout depends upon more items you can find.
You can only challenge once every 24 hours.
In case your neighbor declines the challenge you still lose the energy points you spent to send the challenge out.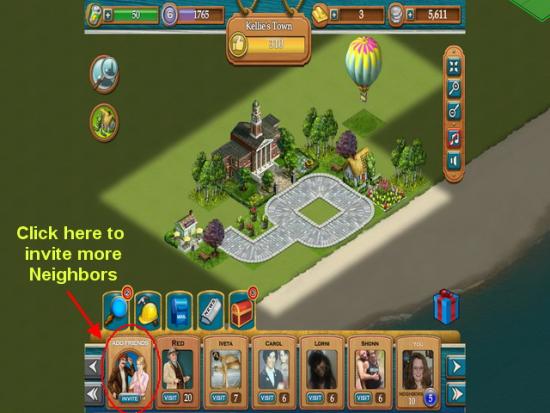 Inviting Neighbors
Friends that are already playing will automatically show up on your neighbor list. For those not playing you would like to invite simply click on the invite button at the top left of the game screen or at the bottom left in the neighbor menu.
Invitations directly to one or several people at once that are not playing the game to join you.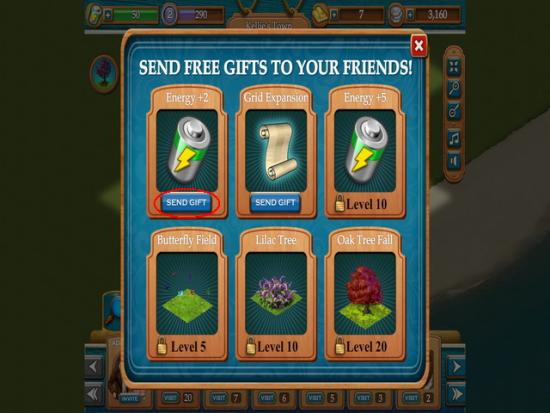 Sending Gifts to Neighbors
One gift per day can be sent to each of your neighbors.
Look at the gift box icon at bottom right of screen and Click it to send to many neighbors at once or click on "Gift" when you are visiting a specific neighbor.
Note that these gifts are free for you to send and more of them unlock as you level up.
The most valuable gift is energy as that is immediately useful to your neighbor.
In case you send a décor item it will add appeal points to your neighbor's town.
Receiving Gifts from Others
Each and every day when you log in a notification screen will appear telling you if anyone has sent you a gift.
Note that you will have to accept each gift individually then it will be placed in your inventory for you to place when you are ready to use it.
Purpose of Inventory : This is the chest icon along the bottom left of the screen over the neighbor menu.
Click on an energy gift to add it to your meter in increments of one or five.
If you would like to place a decorative item know that it will add to your appeal but only if it is placed in your town. Anything sitting in inventory does not count in your overall total.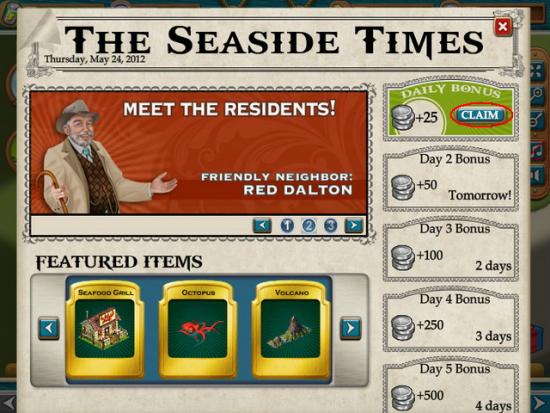 Awarding of Daily Bonus
Each and every day that you log in your will be awarded a cash bonus.
Each consecutive day you log in this reward will get larger as long as you do not miss any days. If you miss a day then the count starts over again.
Take note that you will have to log in and accept each day's winnings for it to count.
There are many special deals on the Special Daily Screen that can only be accessed once per day. These items can be purchased with gold to unlock new hidden object scenes or place in your town for really large appeal bonuses that can also unlock scenes much sooner.
This Website is not affiliated with Seaside Hideaway. trademarks are the property of their respective owners. Game content and materials copyright Seaside Hideaway. all right reserved.